1946: Woodside Presbyterian Church (Woodside Church), Yardley, PA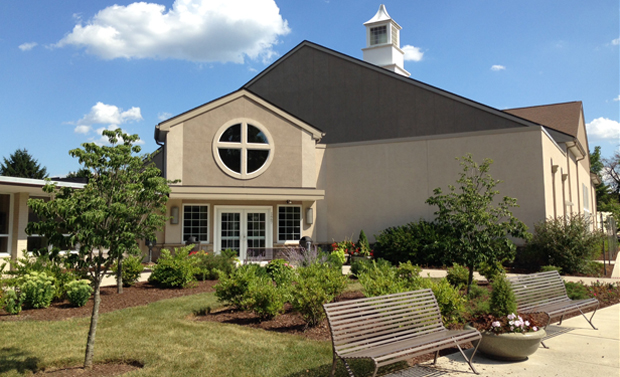 Woodside Presbyterian Church began life in 1883 as a seed planted in the hearts of a small group of Christians from the tiny village and surrounding farms know as Edgewood. They began meeting in homes as travel to the nearest church in Newtown was difficult. In July of 1884 the Newtown Presbyterian Church agreed to provide assistance in erecting a chapel and in supervising the spiritual life and growth of Woodside.
The Chapel became known as "the training post for Princeton Theological Seminary Pupils" as seminary students filled the pulpit during those early years. On April 28, 1946, with 80 charter members, the Woodside Presbyterian Church was organized as the 171st church in the Presbytery of Philadelphia.
In June of 1953 Woodside was finally able to call its thirty-second seminary student, the Rev. Jerold B. Ellison, as its first full-time ordained pastor. The Rev. John "Jeff" McConaughy became the next pastor the fall of 1956. A five acre property across from the Chapel was purchased and a new building that consisted of a pastor's study, fellowship hall, kitchen and classrooms was erected and dedicated in October of 1959. The first service in the current sanctuary was in January of 1968. The Rev. George Hollingshead arrived in March of 1964, followed by the Rev. Stephen H. Janssen in 1979, and the current pastor, the Rev. Douglas Hoglund who was installed in 1994.
As the church continued to grow in members and in service to the community the Woodside Christian Preschool was opened in 1989. The original building was enlarged in 1999 with a new Christian Education Wing, music room, library and offices. The most recent expansion, completed in 2009, added 60% more space to Woodside. Pollster George Gallup, Jr. spoke at the dedication ceremony.
In the last twenty years Woodside witnessed six waves of transformation: from a single traditional worship service to four diverse services, from central control to a permission-giving culture, from committees to teams, from adult Sunday School to sixty small groups, from internal focus to external mission, from a single location to two campuses. Highlights of our year are mission trips to the Bahamas, Haiti, and the Dominican Republic and domestically to South Carolina and Appalachia and the annual Church Has Left the Building day of service in the fall. Woodside is eager to offer ideas, coaching and support to congregations that are ready to rise up, go out, and be the Church of Jesus.
--
This brief history was recently updated as a part of the Presbytery of Philadelphia's 300th Anniversary Year of Celebration and Witness. The story of the congregations throughout the Presbytery were revised to remind us of our past even as we live into the present and move towards God's promised future. Read more about the 300th Anniversary: www.presbyphl.org/300th-Anniversary.