Presbyterians & American Culture: The PHS Luncheon Address
Bradley J. Longfield, Dean and Professor of Church History at the University of Dubuque Theological Seminary, spoke at the PHS General Assembly Luncheon in Detroit. In remarks before a sold-out audience at the Renaissance Center's Ambassador Room, Dr. Longfield gave an insightful and entertaining account of the interaction of Presbyterianism and American Culture since the 17th century.
After an opening prayer by the Reverend Paul Watermulder, outgoing PHS Board of Directors' Chair, and an introduction by Nancy Taylor, co-Acting Director of PHS, Dr. Longfield stated the central premise of his talk and of his recently published book, Presbyterians and American Culture: A History—that Presbyterianism has exerted a significant and sustained influence on American culture, and vice-versa, with the Church sometimes shaping the national culture, and the culture sometimes having the larger impact on the Church's theology, approaches to social issues, and polity, especially in recent times.
Dr. Longfield used slides to highlight seminal ideas and figures in the story of American Presbyterianism. John Witherspoon, Gilbert Tennent, Elias Boudinot, James Henry Thornwell, A.T. Pierson, Henry Sloan Coffin, J. Gresham Machen, Francis P. Miller, Henrietta Mears, and Eugene Carson Blake were some of the more prominent theologians, educators, and other church figures who took strong stands regarding revivals, abolitionism, civil rights, and other questions of "order versus freedom"—what role the Church should play, if any, in addressing the perceived ills of society.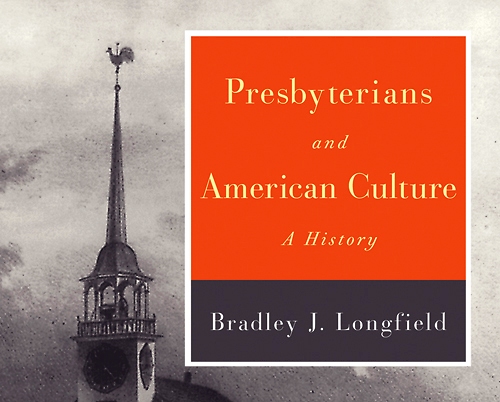 Dr. Longfield explained how different leaders influenced separate traditions within the faith. Thornwell's Antebellum defense of "spirituality first" set a conservative precedent that J. Gresham Machen, Francis P. Miller, and Henrietta Mears followed as they promoted Neo-Orthodoxy and Neo-Evangelicalism in the 20th century. Individuals more supportive of church benevolent societies and boards of mission advanced the work of humanitarian, and sometimes ecumenical, ministries. Missionaries such as William Henry Sheppard and Pearl S. Buck—"the basketball players of their day," Dr. Longfield joked—enjoyed wide celebrity inside and outside the Church despite what were at times controversial stances. Lay figures such as John Foster Dulles and Catherine Marshall emphasized the ways "American Christian faith" could positively affect the non-Christian world.
During the question and answer period following his prepared remarks, Dr. Longfield—an ordained PC(USA) Teaching Elder—was asked about the possibility of reunion among some of the currently distinct Presbyterian denominations, and about the ways Presbyterianism is affecting the wider culture today. His thoughtful response to this last question was applauded by an audience of churchgoers and history enthusiasts eager for unifying reminders amid the debate and disagreement of the Assembly:
"Presbyterianism still influences culture every Sunday in little colonies across the country [where] people gather to pray and to hear the word of God, and in that way to find their salvation and the salvation of the world. It's when we do that…and then take that into the world in myriad ways, whether [as] bankers or carpenters, or mothers or teachers or doctors, that Presbyterians are proclaiming the gospel. It's in those colonies that this happens."