Story of an RNS Photo: The Celis and Rotenberg Families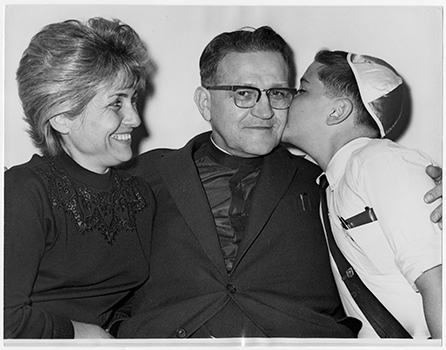 On June 18, 1965, Father Hubert Celis of Belgium arrived in New York City to be present for the Bar Mitzvah of Norman Wolbrom, son of Regine Rotenberg Wolbrom. Regine and her siblings survived the Holocaust thanks to the Celis family, and Father Hubert was happy to provide one more small favor, serving as Norman's "grandfather" for the Bar Mitzvah. The moment of Hubert's arrival was captured by a Religious News Service (RNS) photographer, which is how this incredible moment of interfaith compassion became part of the RNS archive, a collection of 60,000 images housed at PHS. I found this photograph while working on our RNS Digitization Pilot Project and was immediately drawn in by the expression of pure joy on Regine's face. The brief caption that accompanied the photograph was only a fraction of the story and I needed to learn more. I began my research and found testimonies, documents, and photographs through Yad Vashem, the World Holocaust Remembrance Center.
The story of the Celis family and the Rotenberg children begins in September 1942 in Halmaal, Belgium. Tena Rotenberg, having recently fled Brussels, approached Father Hubert and asked him to protect her children. She knew that she and her husband Moszek would be arrested soon, and she did not want her four children to face that same fate. Father Hubert agreed to help, and the Rotenberg children were split up within the Celis family. Sisters Regine, 16, and Sonia, 2, stayed with Joseph Celis, Hubert's father, while brothers Wolfgang, 13, and Sigmund, 9, stayed with Hubert's brother Louis, also a priest, in Gotem.
On October 29, 1942, Tena and Moszek Rotenberg were arrested by German police, taken to Auschwitz, and killed. That same day, Father Hubert was arrested and accused of being in the resistance and hiding the Rotenberg children. He was released after three hours of interrogation, but the children were temporarily relocated to new houses for their protection. Regine stayed with a friend of the Celis family, the boys went to another priest, and Sonia, because she was so young and difficult to keep hidden, was moved more permanently to Zonhoven to stay with Alfons and Clementina Maris. Once the Germans stopped harassing Father Hubert, Regine returned to Joseph's home and Wolfgang and Sigmund moved back to Louis's home.
Although the children were being cared for by Catholic families, they were encouraged to remain faithful to Judaism. Regine kept the Sabbath and did not eat meat for the first six weeks; she only adjusted some of her eating practices later when she realized that would help her to survive. Father Louis took Wolfgang and Sigmund to church in order to keep up the appearance that they were Catholic orphans, but at home, he made the boys follow a strict Jewish religious routine. He even reached out to a superior official in the church to ensure that the boys were properly adhering to the tenets of Judaism. Neither Celis brother felt that it was right to convert the children to Catholicism during this horrible time. Both thought it better to raise them well in their own faith instead of taking away such a central part of their identities.
On May 3, 1944, Regine was arrested and sent to Auschwitz, and Father Hubert was arrested and released. Regine was held at Auschwitz until its liberation. She returned to Belgium and the Celis family in 1945.
Eventually, all of the Rotenberg children immigrated to the United States, where they remained close to the Celis family. Father Hubert led Regine to the canopy when she married Isaac Wolbrom in 1947. It is no surprise, then, that Father Hubert was also present for Regine and Isaac's son's Bar Mitzvah. Regine asked Father Hubert to serve as Norman's "grandfather" because "my children have no grandparents and he was the last to see my parents."
Though proud of their ability to keep the Rotenberg children safe during World War II, the Celis brothers felt a great sadness in not being able to protect others. They never lost sight of the larger historical tragedy, and the failure of Europe's Christian community to do more. In a 1949 letter, Louis Celis mentioned this "irremovable stain":
The only profound regret that I must always bear with me is for my not having been able to provide for the welfare of all Jews in distress in Belgium and elsewhere without any distinction whatsoever. I regret not having been able to hide all of them and thus fully remove them from this bloody persecution which, let's admit, will forever remain an irremovable stain for the whole of Europe. And to think that these abominable crimes were perpetrated in a century considered the century of civilization and high culture. What an irony!
Further Reading
Learn more about the RNS Digitization Pilot Project at PHS
Access RNS photos available via Pearl
Go to the Religion News Service, today's Religious News Service
You may freely reuse and distribute this article in its entirety for non-commercial purposes. Please include author attribution, photography credits, and a link to the original article. This work is licensed under a Creative Commons Attribution-NonCommercial-NoDeratives 4.0 International License.