Thelma Davidson Adair: GA Moderator, Christian Leader, Activist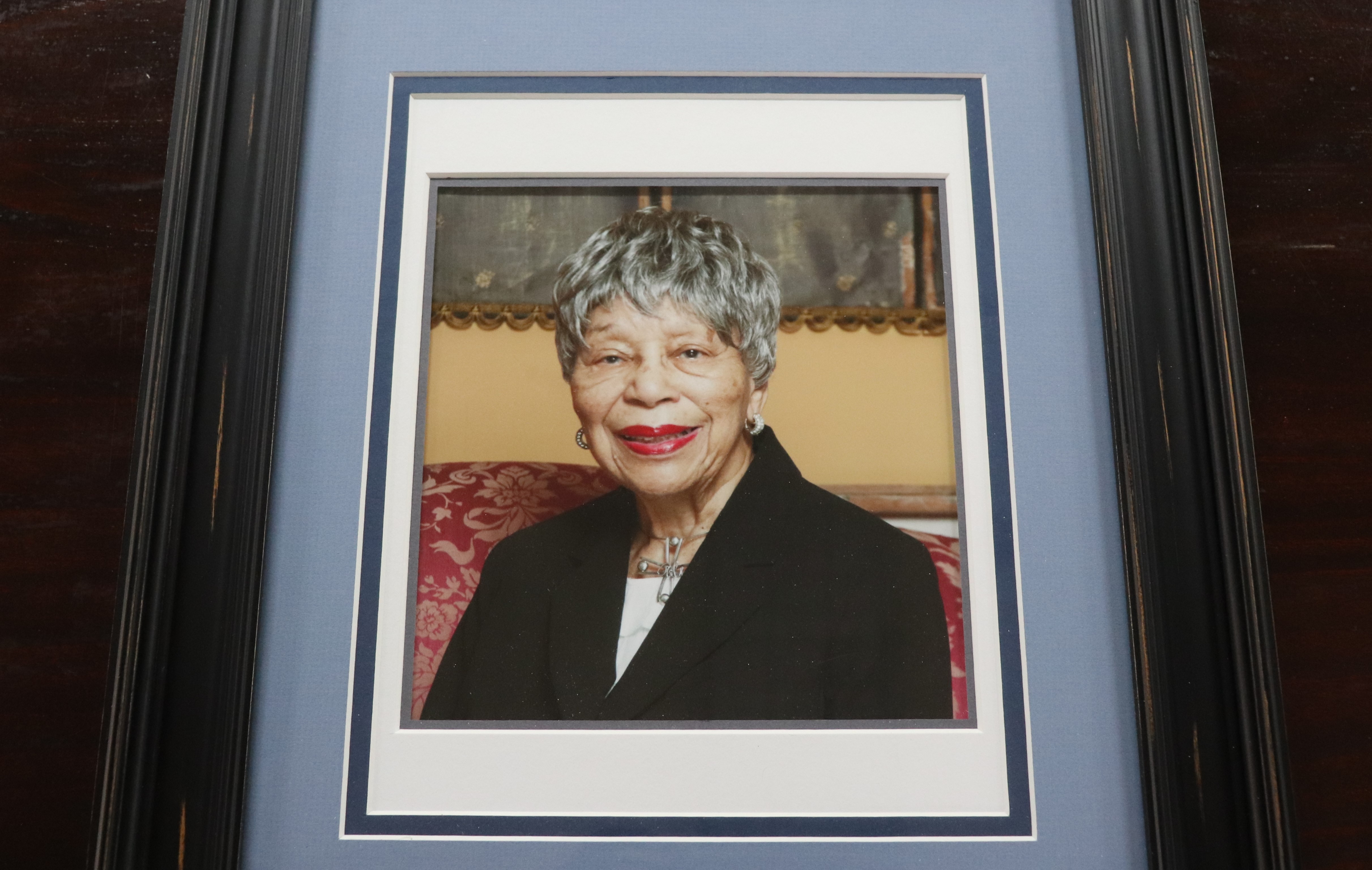 Many of us were looking forward to visiting Baltimore in June of this year for General Assembly. Even though General Assembly will now be a virtual occasion, we can still reflect on the historic nature of the city and its connection to the PCUSA and General Assemblies past.
One of many historic events that happened in Baltimore occurred in 1976 when Thelma Cornelia Davidson Adair was elected and became the first African American woman Moderator of the General Assembly for the Presbyterian Church.
Being the first requires a certain level of grit and determination. Let us look back at her life to see what prepared her to take on this new and challenging role. An especially helpful resource for that purpose is the documentary Dr. Thelma Adair: Harlem-based Early Childhood Educator and Presbyterian Church Leader.[1]
Thelma Cornelia Davidson was born August 29th 1920. She grew up in Iron Station, North Carolina, surrounded by extended family, including a great grandmother who lived to be 120 years old. Her father, Robert James Davidson, was a Baptist minister and principal of the Western Union Baptist Academy. Her mother, Violet Wilson Davidson, was a teacher and community organizer. Once her father became principal of Davidson High School and pastor of several Baptist churches, the Adair children began to participate in the activities of all the churches in town.
Growing up the child of two teachers and one minister laid the foundation for Thelma's love and respect for both the Christian faith and education.      
In 1934, Thelma Davidson graduated from the Lincoln Academy and later went on to the Barber-Scotia Junior College and then Bennett College. In 1940, she married Presbyterian minister and Sunday school missionary, Eugene Adair. They moved in 1942 to New York, where they raised three children. In New York, Thelma studied at the Teachers' College at Columbia University. By 1943, Eugene Adair would become pastor of the Mount Morris Presbyterian Church. While he pastored the church, Thelma pursued and completed her Ph.D. in education and became a professor of Education at Queens College, University of the City of New York.
As a pastor's wife and a professor with a family, Dr. Thelma Adair became intimately familiar with the struggles of modern womanhood. She had to juggle multiple demands on her time while seeking to be the best version of herself in each one of these roles.
One of the roles that she also took on was that of patriotic American citizen. As the United States took part in World War Two, Dr. Adair contributed to the war effort by working in a factory inspecting radar tubes. She said of this time:
Despite the denial, despite the tragedy, despite the suffering, black folks, colored folks, Negro, Afro-Americans, claim America. This was your country, and so the loyalty, and this is the mystery of it all, was so strong that you never, even as we worked in war plants, even as we brought our crippled back, even as we buried our dead and got flags—we were not fighting for someone else. We too were America, and we only wanted the chance and the opportunity that we could have to sit at the table.
Dr. Adair also recalled donating cloth for diapers to women in Europe during World War Two.
It was perhaps this experience of helping children and mothers a world away that inspired her to focus on helping children in her local community. She organized and directed Day Care Centers and Head Start Programs for the children of migrant farm workers and for the children of working parents in New York City. As a specialist in early childhood education, she also wrote numerous books and articles that would become resources for educators around the country.
In her religious life, she was a ruling elder in the Mount Morris Presbyterian Church and a leader in Black Presbyterians United.
In 1976, Dr. Adair was elected moderator of the 188th General Assembly of the United Presbyterian Church in the United States of America.
She was the first African American woman to hold the office in the United Presbyterian Church's highest policy-making body. The news was even mentioned in the local newspaper, "Baltimore Afro-American":
A moderator takes on the role of ambassador of the denomination throughout the duration of their term. As moderator from 1976 to 1977, Dr. Adair traveled the world to over, visiting seventy countries and conducting meetings with local and national leaders such as President Gerald Ford.
By 1980, Dr. Adair found herself in yet another international role as the President of Church Women United, which organized Christian women in over 125 countries. During her time as president she set forth important ideas that were progressive for their time. She emphasized uplifting local voices, recognizing that American women could not assume to be experts in solving other countries problems. She also encouraged women to build lasting friendships with their fellow Christian women in other countries, creating a mutually beneficial partnership. In this sense she laid the ground work for an international movement similar to Reverend J. Herbert Nelson's more-local Hands and Feet General Assembly initiative forty-four years later.
Dr. Thelma C. Davidson Adair turns 100 years old this year. In her century on earth she has lived a multi-faceted life as a Presbyterian educator, church leader, and advocate for human rights. She remains busy even today as a guest speaker, writer, and activist.
For more information about Thelma Davidson Adair make sure to check out:
Interview on Pearl
Click here for audio interview from 2008
Short film on Vimeo
Articles
A jewel of Harlem: Dr. Thelma C. Davidson Adair
In the Washington Post: En Route to Selma, TC Alumna Thelma Adair Shares Memories of Frightening Times
--
[1] Thank you to Melvin McCray of Media Genesis Solutions for putting together this fantastic video about Dr. Adair's life that provided greater context and images for this blog post.