Tillie Paul Tamaree & the Tlingit Community
Recently, we highlighted elder Tillie Paul Tamaree for our #HistoricalFigureFriday series on social media. She was the first Native American woman elected as a ruling elder in the Presbyterian Church in the U.S.A.
Before her election as elder in 1930, Tillie Paul worked as a translator, civil rights advocate, and missionary educator within the Tlingit community in the Pacific Northwest.
The Tlingit are indigenous peoples of that region. Their language is the Tlingit language in which the name means "People of the Tides."
Tillie Paul Tamaree worked as a lecturer on Tlingit culture in Sitka, Alaska, as a member of the Society of Alaskan Natural History and Ethnology. Alongside fellow teacher Fannie Willard, she also created an alphabet for writing Tlingit language, and compiled a Tlingit dictionary.
Tillie Paul Tamaree also learned to play the organ to bring music to school and church events. Some of her translated hymns and prayers are still in use among Tlingit Christians today.
In 1922, she assisted a Tlingit relative, Charlie Jones, in voting, which was considered a felony. Due to the fact that Native Americans were not automatically considered U.S. citizens at that time. Charlie Jones was tried in court and represented by Tillie Paul's son William Paul (Shkúndee). Jones was acquitted and Native American people were given the right to vote, setting a precedent that was soon solidified in the Indian Citizenship Act of 1924.
This was a time of strong missionary influence, especially by the Presbyterian Church, which tried to repress the Tlingit culture, customs, and language, punishing students in schools for speaking their native language and jailing parents who kept their children at home. Adults who participated in their own culture's activities were also banned from the church and ostracized. In this environment, Tillie Paul's ability to advocate for her own culture while also embracing the Presbyterian faith is indicative of the struggle of many who love a faith that doesn't always love them.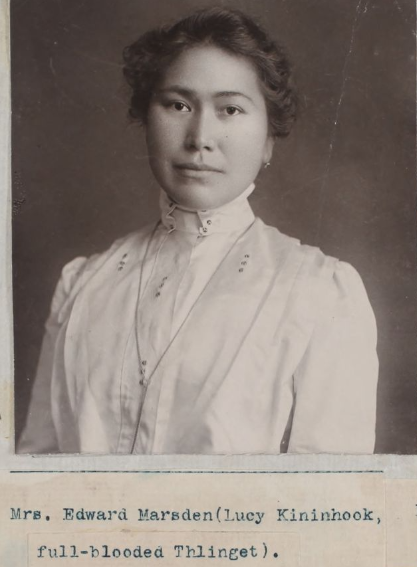 In 1930, Tillie Paul became the first woman ordained as an elder in the Alaska Northwest Synod of the Presbyterian Church (U.S.A.). In doing so she paved the way for future generations of proud Native American women like our current General Assembly Co-Moderator and church ruling elder Elona Street-Stewart.
The Presbyterian Historical Society is fortunate to hold a number of records related to the Tlingit community including recently digitized records from the Memorial Presbyterian Church in Juneau, Alaska, a congregation with a mostly Tlingit population. Here we see an example of the records that were digitized including a collection of marriage certificates from 1940 through 1954.
To learn more about the records in our holdings related to the Tlingit community be sure to visit our online databases, Pearl, Sheppard, and Calvin or contact our reference desk at refdesk@history.pcusa.org.