PHS Staff Profile: Allison Davis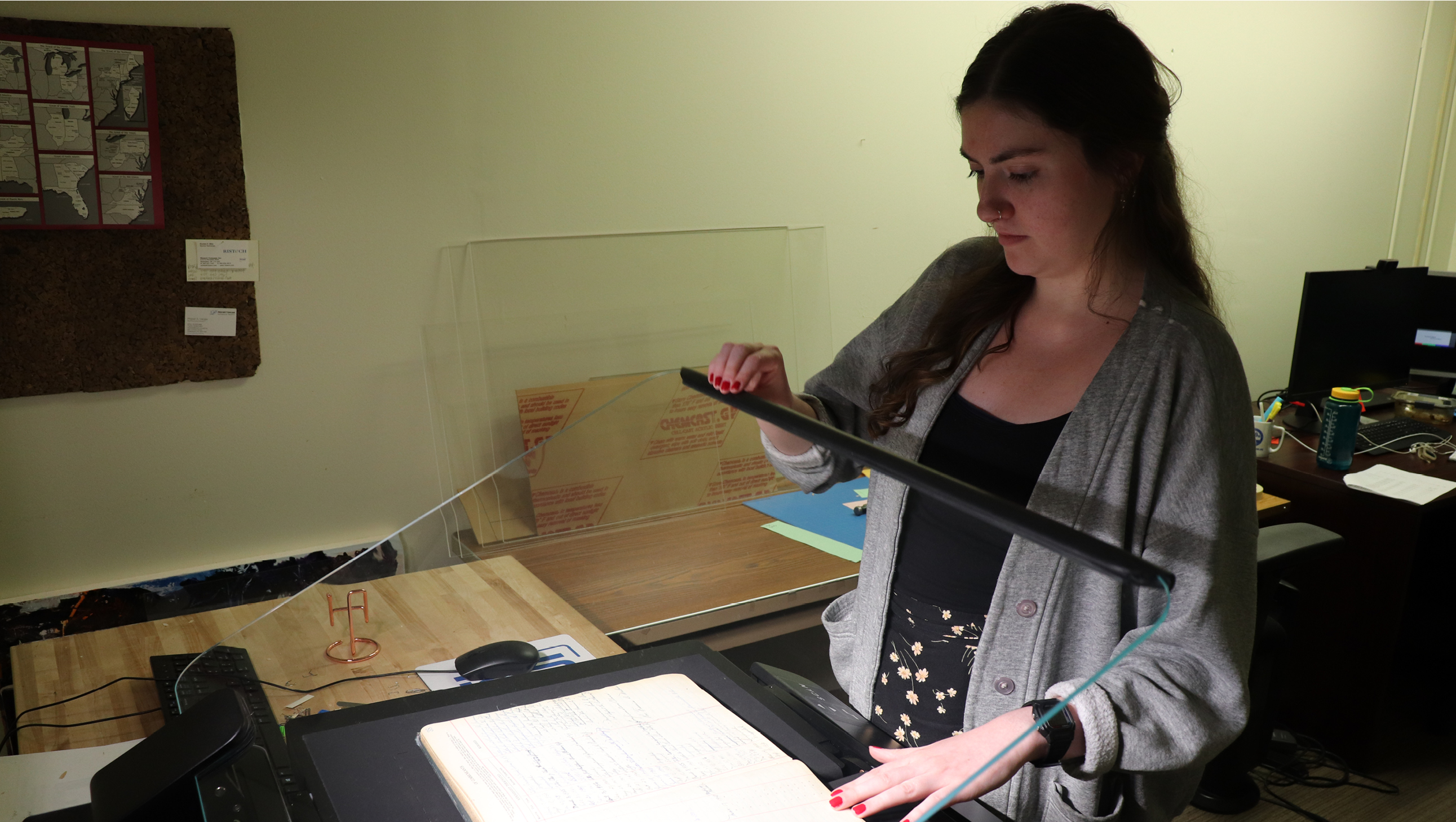 What is your role at PHS? What do you do from day-to-day?
I am the Digital Collections Specialist at PHS. My job is to oversee all of the day-to-day activities of our digitization program, which includes the physical scanning of collection materials, post-production, billing and correspondence with patrons, staff training and equipment maintenance, metadata creation and review, and file preservation. I also manage and maintain Pearl, our online digital archives, which hosts over 19,000 objects including photographs, manuscripts, publications, oral histories, and A/V content, for researchers to access directly from their computer or phone.
How does your work support the mission of PHS?
Our digitization program directly helps Presbyterian congregations preserve their history. Having their records available in a digital format eliminates the need to handle fragile originals, thus protecting the materials. Congregations can then choose to deposit their original records here on site at PHS for safe keeping and maintain their own access to their records via the digital files.
Through the African American Leaders and Congregations Collecting Initiative, we are increasing effort in collecting, sharing, and preserving underrepresented stories in Presbyterian history. As a part of this, our digitization staff is scanning the earliest records of African American congregations at no cost.
Pearl is an amazing tool for accessing our collection materials. Researchers from around the country and the world are able to view and engage with digitized content readily available online, allowing us to share Presbyterian history with a wider audience.
Why do you love working at PHS?
PHS is so much more than meets the eye – an archive is an exciting, lively place to work! Our collections hold such an enormous variety of stories so there's never an opportunity to grow bored of the day-to-day. Since I've started at PHS 8 years ago, our staff has engaged in a number of impressive initiatives (most recently the inter-institutional effort to create the Katie Geneva Cannon Digital Collection.) This is such an ambitious society to work for and there's always a new opportunity to use our digitization program to increase awareness of PHS out in the world. Up next, I am so thrilled to begin work on a multi-year, grant-funded project to digitize the Religious News Service photograph collection, which will expand access to the historical photographs to an international audience.
What do you find most inspiring about PHS?
My colleagues! PHS employs a remarkable staff that have acted as invaluable mentors for me during my time here (which began as a college intern.) Having a small staff, there's always room for collaboration and learning from one another. This is a place that is invested in the personal and professional growth of its employees, and it's been great to benefit from that environment.
Please share an interesting/fun fact about yourself.
I am unabashedly a pop culture connoisseur. If you're watching a movie and you're thinking "where do I know that actor from?" – I can tell you!