First Presbyterian Church Oxford, Mississippi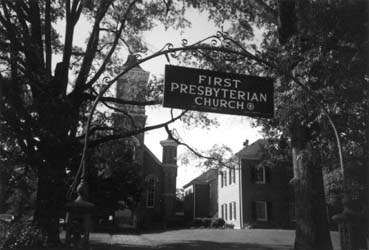 "Follow justice and justice alone, so that you may live and possess the land the Lord your God is giving you." (Deuteronomy 16:19-20).
Lafayette County, Mississippi, came into existence when the land's Native inhabitants were removed after the Chickasaw Cession of 1834. In July 1836, three men sold a plot of land, "50 acres more or less," to the board of police of Lafayette County, "as a place on which to locate a seat of justice."
That seat of justice soon became the town of Oxford. In 1837, a group gathered in a carpenter's shop with the purpose of organizing a Presbyterian Church, and the first minister, Daniel Russell, arrived with his family in Oxford the following year. The first group elected to the session was made up of pioneer settlers of the community, men with varying talents and strengths. The establishment of the state university in Oxford ensured the continuity of educated individuals in the community and the congregation, which continued to grow throughout the next several decades.
The original church building was burned during the Civil War, and the present, red-brick sanctuary was erected in 1880. The congregation made various additions during the twentieth century, in response to outreach endeavors to the community. The church boasts a total of four ministers elected as moderators to the General Assembly during its history. Entry No. 341 American Presbyterian and Reformed Historic Sites Registry Excerpt from On Holy Ground, The Journal of Presbyterian History, Spring/Summer 2009 Volume 87, Number 1.