Recent Works by Our Researchers
The Presbyterian Historical Society's holdings support scholarship on a vast range of topics. On this page, we present a selection of recent publications by researchers who have worked with our collections.
Irish Presbyterians and the Shaping of Western Pennsylvania, 1770-1830, by Peter E. Gilmore (University of Pittsburgh Press, November 2018)
Irish Presbyterians and the Shaping of Western Pennsylvania, 1770–1830 is a historical study examining the religious culture of Irish immigrants in the early years of America. Despite fractious relations among competing sects, many immigrants shared a vision of a renewed Ireland in which their versions of Presbyterianism could flourish free from the domination of landlords and established church. In the process, they created the institutional foundations for western Pennsylvanian Presbyterian churches.
Rural Presbyterian Irish church elders emphasized community and ethnoreligious group solidarity in supervising congregants' morality. Improved transportation and the greater reach of the market eliminated near-subsistence local economies and hastened the demise of religious traditions brought from Ireland. Gilmore contends that ritual and daily religious practice, as understood and carried out by migrant generations, were abandoned or altered by American-born generations in the context of major economic change.
 
Perplexing Patriarchies: Fatherhood Among Black Opponents and White Defenders of Slavery, by Pierre Islam (Vernon Press, September 2018)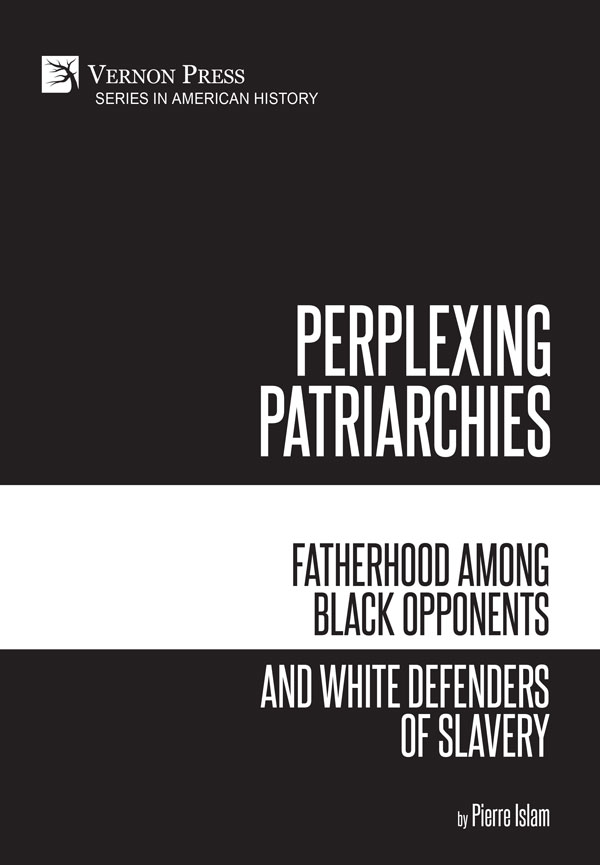 Perplexing Patriarchies examines the rhetorical usage (and lived experience) of fatherhood among three African American abolitionists and three of their white proslavery opponents in the United States during the nineteenth century. Both the prominent abolitionists (Frederick Douglass, Martin Delany, and Henry Garnet), as well as the prominent proslavery advocates (Henry Hammond, George Fitzhugh, and Richard Dabney), appealed to the popular image of the father, husband, and head of household in order to attack or justify slavery.
How and why could these opposing individuals rely on appeals to the same ideal of fatherhood to come to completely different and opposing conclusions? This book strives to find the answer by first acknowledging that both the abolitionists and the proslavery men shared similar concerns about the contested status of fatherhood in the nineteenth century. However, due to subtle differences in their starting assumptions, and different choices of what parts of a father's responsibilities to emphasize, the black abolitionists conceived of an ideal father who protected the autonomy of his dependents, while the proslavery men conceived of one whose authority necessitated the subordination of those he protected.
Finding that these differences arose from choices in starting assumptions and emphases rather than total disagreement on what the role of the father should be, this work reveals that black abolitionists were not radically critiquing the gender conventions of their day, but innovatively working within those conventions to turn them towards social reform. This discovery opens up a new way for historians to consider how oppressed peoples negotiated the intellectual boundaries of the societies which oppressed them: not necessarily breaking entirely from those boundaries, nor passively accepting them, but ingeniously synthesizing a worldview from within their confines that still allowed for freedom and personal autonomy.
 
The Hymnal: A Reading History, by Christopher Phillips (Johns Hopkins University Press, August 2018)
It stands barely three inches high, a small brick of a book. The pages are skewed a bit, and evidence of a small handprint remains on the worn, cheap leather covers that don't quite close. The book bears the marks of considerable use. But why―and for whom―was it made?
Christopher N. Phillips' The Hymnal is the first study to reconstruct the practices of reading and using hymnals, which were virtually everywhere in the eighteenth and nineteenth centuries. Isaac Watts invented a small, words-only hymnal at the dawn of the eighteenth century. For the next two hundred years, such hymnals were their owners' constant companions at home, school, church, and in between. They were children's first books, slaves' treasured heirlooms, and sources of devotional reading for much of the English-speaking world. Hymnals helped many people learn to memorize poetry and to read; they provided space to record family memories, pass notes in church, and carry everything from railroad tickets to holy cards to business letters. In communities as diverse as African Methodists, Reform Jews, Presbyterians, Methodists, Roman Catholics, and Unitarians, hymnals were integral to religious and literate life.
An extended historical treatment of the hymn as a read text and media form, rather than a source used solely for singing, this book traces the lives people lived with hymnals, from obscure schoolchildren to Emily Dickinson. Readers will discover a wealth of connections between reading, education, poetry, and religion in Phillips's lively accounts of hymnals and their readers.
Read Christopher Phillips' post Psalms, Hymns, and…Piracy? on the PHS blog.
 
African Testimony in the Movement for Congo Reform: The Burden of Proof by Robert Burroughs (Routledge, July 2018)
The humanitarian movement against Leopold's violent colonisation of the Congo emerged out of Europe, but it depended at every turn on African input. Individuals and groups from throughout the upper Congo River basin undertook journeys of daring and self-sacrifice to provide evidence of atrocities for the colonial authorities, missionaries, and international investigators.

Combining archive research with attention to recent debates on the relation between imperialism and humanitarianism, on trauma, witnessing and postcolonial studies, and on the recovery of colonial archives, African Testimony in the Movement for Congo Reform examines the conditions in which colonised peoples were able to speak about their subjection, and those in which attempts at testimony were thwarted.

Robert Burroughs makes a major intervention by identifying African agency and input as a key factor in the Congo atrocities debate. This is an important and unique book in African history, imperial and colonial history, and humanitarian history.
 
Southern White Ministers and the Civil Rights Movement by Elaine Allen Lechtreck (University Press of Mississippi, June 2018)
In 1963, the Sunday after four black girls were killed by a bomb in a Birmingham church, George William Floyd, a Church of Christ minister, preached a sermon based on the Golden Rule. He pronounced that Jesus Christ was asking Christians to view the bombing from the perspective of their black neighbors and asserted, "We don't realize it yet, but because Martin Luther King Jr. is preaching nonviolence, which is Jesus's way, someday Martin Luther King Jr. will be seen as the best friend the white man in the South has ever had." During the sermon, members of the congregation yelled, "You devil, you!" and, immediately, Floyd was dismissed. Although not every antisegregation white minister was as outspoken as Pastor Floyd, many signed petitions, organized interracial groups, or preached gently from a gospel of love and justice. Those who spoke and acted outright on behalf of the civil rights movement were harassed, beaten, and even jailed.
Based on interviews and personal memoirs, Southern White Ministers and the Civil Rights Movement traces the efforts of these clergymen who--deeply moved by the struggle of African Americans--looked for ways to reconcile the history of discrimination and slavery with Christian principles and to help their black neighbors. While many understand the role political leaders on national stages played in challenging the status quo of the South, this book reveals the significant contribution of these ministers in breaking down segregation through preaching a message of love.
 
Gods of Indian Country: Religion and the Struggle for the American West by Jennifer Graber (Oxford University Press, April 2018)
During the nineteenth century, white Americans sought the cultural transformation and physical displacement of Native people. Though this process was certainly a clash of rival economic systems and racial ideologies, it was also a profound spiritual struggle. The fight over Indian Country sparked religious crises among both Natives and Americans.

In The Gods of Indian Country, Jennifer Graber tells the story of the Kiowa Indians during Anglo-Americans' hundred-year effort to seize their homeland. Like Native people across the American West, Kiowas had known struggle and dislocation before. But the forces bearing down on them-soldiers, missionaries, and government officials-were unrelenting. With pressure mounting, Kiowas adapted their ritual practices in the hope that they could use sacred power to save their lands and community.

Against the Kiowas stood Protestant and Catholic leaders, missionaries, and reformers who hoped to remake Indian Country. These activists saw themselves as the Indians' friends, teachers, and protectors. They also asserted the primacy of white Christian civilization and the need to transform the spiritual and material lives of Native people. When Kiowas and other Native people resisted their designs, these Christians supported policies that broke treaties and appropriated Indian lands. They argued that the gifts bestowed by Christianity and civilization outweighed the pains that accompanied the denial of freedoms, the destruction of communities, and the theft of resources. In order to secure Indian Country and control indigenous populations, Christian activists sanctified the economic and racial hierarchies of their day.
Read Jennifer Graber's post The "Problem" of Native American Church Membership on the PHS blog.
 
Archibald Simpson's Unpeaceable Kingdom: The Ordeal of Evangelicalism in the Colonial South by Peter N. Moore (Rowman & Littlefield, April 2018)
Archibald Simpson's Unpeaceable Kingdom draws on the life of Presbyterian minister and diarist Archibald Simpson (1734–1795) to examine the history of evangelical Protestantism in South Carolina and the British Atlantic during the last half of the eighteenth century. Although he grew up in the evangelical heartland of Scotland in the wake of the great mid-century revivals, Simpson spurned revivalism and devoted himself instead to the grinding work of the parish ministry. At age nineteen he immigrated to South Carolina, where he spent the next eighteen years serving slaveholding Reformed congregations in the lowcountry plantation district. Here powerful planters held sway over slaves, families, churches, and communities, and Simpson was constantly embattled as he sought to impose an evangelical order on his parishes. In refusing to put the gospel in the pockets of planters who scorned it—and who were accustomed to controlling their parish churches—he earned their enmity. As a result, every relationship was freighted with deceit and danger, and every practice—sermons, funerals, baptisms, pastoral visits, death narratives, sickness, courtship, friendship, domestic concerns—was contested and politicized. In this context, the cause of the gospel made little headway in Simpson's corner of the world. Despite the great midcentury revivals, the steady stream of religious dissenters who poured into the province, and all the noise they made about slave conversions, Simpson's story suggests that there was no evangelical movement in colonial South Carolina, just a tired and frustrating evangelical slog.
 
Enlisting Faith: How the Military Chaplaincy Shaped Religion and State in Modern America by Ronit Y. Stahl (Harvard University Press, November 2017)
A century ago, as the United States prepared to enter World War I, the military chaplaincy included only mainline Protestants and Catholics. Today it counts Jews, Mormons, Muslims, Christian Scientists, Buddhists, Seventh-day Adventists, Hindus, and evangelicals among its ranks. Enlisting Faith traces the uneven processes through which the military struggled with, encouraged, and regulated religious pluralism over the twentieth century.
Moving from the battlefields of Europe to the jungles of Vietnam and between the forests of Civilian Conservation Corps camps and meetings in government offices, Ronit Y. Stahl reveals how the military borrowed from and battled religion. Just as the state relied on religion to sanction war and sanctify death, so too did religious groups seek recognition as American faiths. At times the state used religion to advance imperial goals. But religious citizens pushed back, challenging the state to uphold constitutional promises and moral standards.
Despite the constitutional separation of church and state, the federal government authorized and managed religion in the military. The chaplaincy demonstrates how state leaders scrambled to handle the nation's deep religious, racial, and political complexities. While officials debated which clergy could serve, what insignia they would wear, and what religions appeared on dog tags, chaplains led worship for a range of faiths, navigated questions of conscience, struggled with discrimination, and confronted untimely death. Enlisting Faith is a vivid portrayal of religious encounters, state regulation, and the trials of faith―in God and country―experienced by the millions of Americans who fought in and with the armed forces.
 
Protestants Abroad: How Missionaries Tried to Change the World but Changed America by David A. Hollinger (Princeton University Press, October 2017)
Between the 1890s and the Vietnam era, many thousands of American Protestant missionaries were sent to live throughout the non-European world. They expected to change the people they encountered, but those foreign people ended up transforming the missionaries. Their experience abroad made many of these missionaries and their children critical of racism, imperialism, and religious orthodoxy. When they returned home, they brought new liberal values back to their own society. Protestants Abroad reveals the untold story of how these missionary-connected individuals left an enduring mark on American public life as writers, diplomats, academics, church officials, publishers, foundation executives, and social activists.
David A. Hollinger provides riveting portraits of such figures as Pearl Buck, John Hersey, and Life and Time publisher Henry Luce, former "mish kids" who strove through literature and journalism to convince white Americans of the humanity of other peoples. Hollinger describes how the U.S. government's need for citizens with language skills and direct experience in Asian societies catapulted dozens of missionary-connected individuals into prominent roles in intelligence and diplomacy. Meanwhile, Edwin Reischauer and other scholars with missionary backgrounds led the growth of Foreign Area Studies in universities during the Cold War. The missionary contingent advocated multiculturalism and anticolonialism, pushed their churches in ecumenical and social-activist directions, and joined with Jewish intellectuals to challenge traditional Protestant cultural hegemony and promote a pluralist vision of American life. Missionary cosmopolitans were the Anglo-Protestant counterparts of the New York Jewish intelligentsia of the same era.
Protestants Abroad reveals the crucial role that missionary-connected American Protestants played in the development of modern American liberalism, and how they helped other Americans reimagine their nation's place in the world.
 
Florence Nightingale of Korea, Angel of Korea: a Source Book of Miss Esther L. Shields, R. N. by Hyoung W. Park (Yonsei University Press, October 2017; September 2016)
Since its founding in 1906, the College of Nursing of Yonsei University has played a pivotal role in the development of nursing science in Korea. As the college celebrated its centenary in 2006, it became clear that the early history of the college and the medical missionaries involved in its founding was not well known. Dr. Hyoung Woo Park has undertaken to fill the gap with this two volume source book focused on Esther Lucas Shields, R.N., the Presbyterian missionary nurse who established the Severance Training School for Nurses, the predecessor to the College of Nursing. The impressive work that has resulted from Dr. Park's extensive archival research in repositories in Korea, the United States, and Canada, presents and contextualizes the work of Shields and her fellow medical missionaries. Included are letters, reports, photographs, and minutes, constituting a rich picture of the founding and growth of this important medical institution. Documents are presented in English alongside Korean translations. Florence Nightingale of Korea, Angel of Korea: a Source Book of Miss Esther L. Shields, R.N. is a valuable contribution to scholarship on both the history of medicine and the history of Protestant mission work in Korea.
 
The Presbyterian Experience in the United States: A Sourcebook by William Yoo (Westminster John Knox Press, September 2017)
The Presbyterian Experience in the United States introduces readers to the Presbyterian movement in the United States as told by those who lived through and contributed to its history. William Yoo has drawn together essential documents from the colonial period to the present that illustrate and illumine U.S. Presbyterianism across diversities of race, ethnicity, geography, gender, age, and theological position. Readers will follow the church's journey from modest origins as a Scots-Irish immigrant church to prominence on the national stage, from early revivals and tent meetings to large-scale theological debates, from defense of slavery and racial intolerance to the pursuit of social justice and racial reconciliation, and from retreat into theologically narrow enclaves to active engagement with national and international politics and culture. Yoo weaves together a coherent and compelling narrative using the voices of those who sought a faithfully Presbyterian witness to the gospel. Arranged both chronologically and thematically with historical maps and photos, this book provides a lively and accessible vista into the making and shaping of Presbyterianism in the United States.
 
Samuel Davies: Apostle to Virginia by Dewey Roberts (Sola Fide Publications, August 2017)
Samuel Davies: Apostle to Virginia
is the first full-scale biography ever produced on Samuel Davies, America's greatest ever preacher. It is a meticulously researched work which presents the story of Davies' life from cradle to grave. With the publication of this biography, the great Samuel Davies will no longer be an obscure figure from the past. It deserves a place on the bookshelves of those who have read the biographies of Whitefield, Spurgeon, McCheyne, Edwards, Lloyd-Jones, and other great Christian ministers.
Dewey Roberts is the founding pastor of Cornerstone Presbyterian Church in Destin, Florida, where he has served since 1995. Samuel Davies: Apostle to Virginia is Dewey Roberts' second book. In 2015 he published Historic Christianity and the Federal Vision: A Theological Analysis and Practical Evaluation.
Congo Love Song: African American Culture and the Crisis of the Colonial State by Ira Dworkin (University of North Carolina Press, June 2017)
In his 1903 hit "Congo Love Song," James Weldon Johnson recounts a sweet if seemingly generic romance between two young Africans. While the song's title may appear consistent with that narrative, it also invokes the site of King Leopold II of Belgium's brutal colonial regime at a time when African Americans were playing a central role in a growing Congo reform movement. In an era when popular vaudeville music frequently trafficked in racist language and imagery, "Congo Love Song" emerges as one example of the many ways that African American activists, intellectuals, and artists called attention to colonialism in Africa.
In Congo Love Song, Ira Dworkin examines black Americans' long cultural and political engagement with the Congo and its people. Through studies of George Washington Williams, Booker T. Washington, Pauline Hopkins, Langston Hughes, Malcolm X, and other figures, he brings to light a long-standing relationship that challenges familiar presumptions about African American commitments to Africa. Dworkin offers compelling new ways to understand how African American involvement in the Congo has helped shape anticolonialism, black aesthetics, and modern black nationalism.
Read Ira Dworkin's post Congo Love Song on the PHS blog.
 
Unity in Christ and Country: American Presbyterians in the Revolutionary Era by William Harrison Taylor (University of Alabama Press, June 2017)
In this compelling account, William Harrison Taylor examines the interdenominational pursuits of the American Presbyterian Church from 1758 to 1801 to highlight the church's ambitious agenda of fostering and uniting a host of New World values, among them Christendom, nationalism, and territorial exceptionalism.

Taylor engages a variety of sources, including the published and unpublished works of both the Synods of New York and Philadelphia and the General Assembly of the Presbyterian Church in the United States, as well as numerous published and unpublished Presbyterian sermons, lectures, hymnals, poetry, and letters. Scholars of religious history, particularly those interested in the Reformed tradition, and specifically Presbyterianism, should find Unity in Christ and Country useful as a way to consider the importance of the theology's intellectual and pragmatic implications for members of the faith.
Please contact us to let us know about forthcoming publications. We will update the list periodically but will always aim for about a dozen books published within the last five years.