Recent Works by Our Researchers
The Presbyterian Historical Society's holdings support scholarship on a vast range of topics. On this page, we present a selection of recent publications by researchers who have worked with our collections.
For additional works focused on LGBTQIA+ history in the PC(USA), see the Pam Byers Memorial Collection page.
Orthodox Christians and the Rights Revolution in America, by A.G. Roeber (Fordham University Press, January 2024)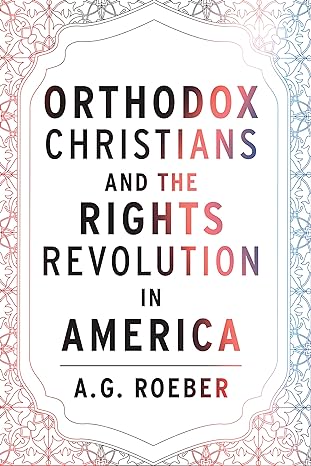 From the civil rights movement of the 1950s to the "culture wars" of North America, commentators have identified the partisans bent on pursuing different "rights" claims. When religious identity surfaces as a key determinant in how the pursuit of rights occurs, both "the religious right" and "liberal" believers remain the focus of how each contributes to making rights demands. How Ortho­dox Christians in North America have navigated the "rights revolution," however, remains largely unknown. From the disagreements over the rights of the First Peoples of Alaska to arguments about the rights of transgender persons, Orthodox Christians have engaged an anglo-American legal and constitutional rights tradition. But they see rights claims through the lens of an inherited focus on the dignity of the human person.
In a pluralistic society and culture, Orthodox Christians, both converts and those with family roots in Orthodox countries, share with non-Orthodox fellow citizens the challenge of reconcil­ing conflicting rights claims. Those claims do pit "religious liberty" rights claims against perceived dangers from outside the Orthodox Church. But internal disagreements about the rights of clergy and people within the Church accompany the Orthodox Christian engagement with debates over gender, sex, and marriage as well as expanding political, legal, and human rights claims. Despite their small numbers, North American Orthodox remain highly visible and their struggles influential among the more than 280 million Orthodox worldwide. Orthodox Christians and the Rights Revolu­tion in America offers an historical analysis of this unfolding story.
 
Movies on a Mission: American Protestants and the Foreign Missionary Film, 1906-1956, by Glenn Reynolds (McFarland, September 2023)
This investigation into the little-known genre of mission-oriented films uncovers how Protestant missionaries overseas sought to bring back motion picture footage from remote parts of the world. In the broader religious community, mission films aimed to educate congregants back home about efforts to evangelize communities around the world. Movies on a Mission, however, demonstrates the larger impact of mission films on American visual culture. The evolution and development of the genre is highlighted from an early emphasis on "foreign views" in the 1910s, to interwar films providing a more detailed look at how mission stations functioned in far-flung lands, to Cold War productions which at times functioned as veritable propaganda tools parroting anti-communist discourse emanating from the CIA.
 
Famine Worlds: Life at the Edge of Suffering in Lebanon's Great War, by Tylor Brand (Stanford University Press, August 2023)
World War I was a catastrophe for the lands that would become Lebanon. With war came famine, and with famine came unspeakable suffering, starvation, and mass death. For nearly four years the deadly crisis reshaped society, killing untold thousands and transforming how people lived, how they interacted, and even how they saw the world around them. Famine Worlds peers out at the famine through their eyes, from the wealthy merchants and the dwindling middle classes, to those perishing in the streets. Tylor Brand draws on memoirs, diaries, and correspondence to explore how people negotiated the famine and its traumas. Many observers depicted society in collapse—the starving poor became wretched victims and the well-fed became villains or heroes for the judgment of their peers. He shows how individual struggles had social effects. The famine altered beliefs and behaviors, and those in turn influenced social relationships, policies, and even the historical memory of generations to come. More than simply a chronicle of the Great Famine, however, Famine Worlds offers a profound meditation on what it means to live through such collective trauma, and how doing so shapes the character of a society. Brand shows that there are consequences to living amid omnipresent suffering and death. A crisis like the Great Famine is transformative in ways we cannot comprehend. It not only reshapes the lives and social worlds of those who suffer, it creates a particular rationality that touches the most fundamental parts of our being, even down to the ways we view and interact with each other. We often assume that if we were thrust into historic calamity that we would continue to behave compassionately. Famine Worlds questions such confidence, providing a lesson that could not be more timely.
 
Shadows of China: A Family's Lifelong Missionary Experience, a Son's Journal, and the Japanese Invasion of 1937, by Warren Rapelye White (Aforetimes Publishing, January 2023)
Two young Virginians, Hugh White and Augusta Graves, traveled to China in the 1890s as Presbyterian missionaries. They met and married in China, and tried to bring help and hope to a poorly educated people locked in poverty in remote mission locations. To many of those Chinese, the missionaries were the first westerners they had ever seen. They had been taught that the newcomers were "foreign devils." Hugh and Augusta ended up spending 47 years of their adult lives in China—facing war, disease, and hostility while teaching, raising a family, and experiencing joy and tragedy in the midst of beauty and turmoil. One of their sons, Hugh White Jr., who was raised in China, returned "home" to China in 1937 to see his parents, after completing his musical education in the United States. As his ship approached Shanghai, the passengers were informed that the city was under attack by the Japanese, and that the usual port arrival would not occur. Hugh was one of the few passengers who elected to be ferried into the city, despite the risks. After making his way to his parents in the mountain community of Kuling, he joined the faculty of Central China College (Huachung University) in Wuhan. This began his 4,000-mile journey to west China, near Tibet, and back, often under life-threatening wartime conditions, in advance of the Japanese armed forces. In Shadows of China, Hugh White Jr.'s son tells their story. It is sometimes charming and, at other times, chilling. Told through letters, historical images, and personal accounts, it brings to life a distant time and place and provides an insight into historical events as viewed from an intensely personal level.
 
The Allure of Empire: American Encounters with Asians in the Age of Transpacific Expansion and Exclusion, by Chris Suh (Oxford University Press, March 2023)
The Allure of Empire traces how American ideas about race in the Pacific were made and remade on the imperial stage before World War II. Following the Russo-Japanese War, the United States cultivated an amicable relationship with Japan based on the belief that it was a "progressive" empire akin to its own. Even as the two nations competed for influence in Asia and clashed over immigration issues in the American West, the mutual respect for empire sustained their transpacific cooperation until Pearl Harbor, when both sides disavowed their history of collaboration and cast each other as incompatible enemies.
In recovering this lost history, Chris Suh reveals the surprising extent to which debates about Korea shaped the politics of interracial cooperation. American recognition of Japan as a suitable partner depended in part on a positive assessment of its colonial rule of Korea. It was not until news of Japan's violent suppression of Koreans soured this perception that the exclusion of Japanese immigrants became possible in the United States. Central to these shifts in opinion was the cooperation of various Asian elites aspiring to inclusion in a "progressive" American empire. By examining how Korean, Japanese, and other nonwhite groups appealed to the United States, this book demonstrates that the imperial order sustained itself through a particular form of interracial collaboration that did not disturb the existing racial hierarchy.
 
Flora Macdonald: "Pretty Young Rebel": Her Life and Story, by Flora Fraser (Knopf, January 2023)
After his decisive defeat at the Battle of Culloden in 1746, Prince Charles Edward Stuart was a man on the run. Seeking refuge in the Outer Hebrides, hoping to escape to France, he found an unlikely ally in Flora MacDonald, a young woman in her early twenties, loyal to the Stuarts. Disguising the prince as an Irish maid, petticoats and all, Flora conveyed Charles by boat to Skye, where they lodged safely with her family, until the prince's inexpert handling of feminine attire caused concern, and he was persuaded to forgo the ruse before fleeing the area undetected. Flora never saw him again.

This famous incident led to Flora's enduring appeal as a courageous Scottish heroine, inspiring and influencing countless novels, poems, and songs—most notably, the classic ballad "Skye Boat Song" adapted from a traditional tune in the late nineteenth century. But her remarkable life didn't come to a close with her clandestine mission to Skye. Faced with a confession from one of the boatmen, Flora was arrested and taken to London on charges of treason, where under interrogation, she wittily deflected questions and staunchly defended her motives. She was eventually released under the 1747 Act of Indemnity, but disaster would befall her yet again: in 1774, Flora and her husband, Allan MacDonald, fled the impoverished highlands for a brighter future in Cross Creek, North Carolina—utterly unaware of the burgeoning revolution that would upend their lives there, with Allan imprisoned and Flora fleeing, penniless, back home to the Hebrides.

In this probing, evocative portrait of a tumultuous life, master historian Flora Fraser peels away the layers of misinformation, legend, and myth to reveal Flora MacDonald in full. Fraser presents a fascinating picture of this headstrong and irrepressible woman. As Samuel Johnson declared upon visiting her in Scotland, her name was "a name that will be mentioned in history, and if courage and fidelity be virtues, mentioned with honor."
 
The Old Faith in a New Nation: American Protestants and the Christian Past, by Paul J. Gutacker (Oxford University Press, February 2023)
Conventional wisdom holds that tradition and history meant little to nineteenth-century American Protestants, who relied on common sense and "the Bible alone." The Old Faith in a New Nation challenges this portrayal by recovering evangelical engagement with the Christian past. Even when they appeared to be most scornful toward tradition, most optimistic and forward-looking, and most confident in their grasp of the Bible, evangelicals found themselves returning, time and again, to Christian history. They studied religious historiography, reinterpreted the history of the church, and argued over its implications for the present. Between the Revolution and the Civil War, American Protestants were deeply interested in the meaning of the Christian past.
Paul J. Gutacker draws from hundreds of print sources-sermons, books, speeches, legal arguments, political petitions, and more-to show how ordinary educated Americans remembered and used Christian history. While claiming to rely on the Bible alone, antebellum Protestants frequently turned to the Christian past on questions of import: how should the government relate to religion? Could Catholic immigrants become true Americans? What opportunities and rights should be available to women? To African Americans? Protestants across denominations answered these questions not only with the Bible but also with history. By recovering the ways in which American evangelicals remembered and used Christian history, The Old Faith in a New Nation shows how religious memory shaped the nation and interrogates the meaning of "biblicism."
 
Good and Mad: Mainline Protestant Churchwomen, 1920-1980, by Margaret Bendroth (Oxford University Press, December 2022)
Providing a new, women-centered view of mainline Protestantism in the 20th century, Good and Mad explores the paradoxes and conflicting loyalties of liberal Protestant churchwomen who campaigned for human rights and global peace, worked for interracial cooperation, and opened the path to women's ordination, all while working within the confines of the church that denied them equality. Challenging the idea that change is only ever made by the loud, historian Margaret Bendroth interweaves vignettes of individual women who knew both the value of compromise and the cost of anger within a larger narrative that highlights the debts second-wave feminism owes to their efforts, even though these women would never have called themselves feminists.
This lively historical account explains not just how feminism finally took root in American mainline churches, but why the change was so long in coming. Through its complex examination of the intersections of faith, gender, and anger at injustice, Good and Mad will be invaluable to anyone interested in the history of gender and religion in America.
 
Christian Parenting: Wisdom and Perspectives from American History, by David P. Setran (Eerdmans, June 2022)
Today's parenting guidance can sometimes feel timeless and inviolable—especially when it comes to the spiritual formation of children in Christian households. But even in the recent past, parenting philosophies have differed widely among Christians in ways that reflect the contexts from which they emerged.
In Christian Parenting, David Setran catalogs the varying ways American Protestants envisioned the task of childrearing in the seventeenth, eighteenth, and nineteenth centuries. Comparing two main historical time periods—the colonial era and the Victorian era—Setran uncovers common threads, opposing viewpoints, and the cultural and religious influences behind the dominant parenting "postures" of each era. The implications of his findings matter for today's big questions about parenting:
Should children be viewed as basically good, in need of protection from corruption, or as fundamentally sinful, in need of moral correction?
How should parents address misbehavior?
Should a parent's primary role be that of teacher, disciplinarian, or nurturer?
What importance should be attributed to devotions and prayer, church involvement, Sabbath-keeping, home decorating, and fun family activities?
What consideration should be given to gender? Should boys and girls be raised differently? Do mothers and fathers have essentially different responsibilities?
 
Before the Religious Right: Liberal Protestants, Human Rights, and the Polarization of the United States, by Gene Zubovich (University of Pennsylvania Press, March 2022)
When we think about religion and politics in the United States today, we think of conservative evangelicals. But for much of the twentieth century it was liberal Protestants who most profoundly shaped American politics. Leaders of this religious community wielded their influence to fight for social justice by lobbying for the New Deal, marching against segregation, and protesting the Vietnam War. In Before the Religious Right, Gene Zubovich shows that the important role of liberal Protestants in the battles over poverty, segregation, and U.S. foreign relations must be understood in a global context. Inspired by new transnational networks, ideas, and organizations, American liberal Protestants became some of the most important backers of the United Nations and early promoters of human rights. But they also saw local events from this global vantage point, concluding that a peaceful and just world order must begin at home. In the same way that the rise of the New Right cannot be understood apart from the mobilization of evangelicals, Zubovich shows that the rise of American liberalism in the twentieth century cannot be understood without a historical account of the global political mobilization of liberal Protestants.
 
Balancing Communities: Nation, State, and Protestant Christianity in Korea, 1884–1942, by Paul S. Cha (University of Hawaii Press, January 2022)
Starting in 1884 with the arrival of the first resident Protestant missionary in Korea and ending with the expulsion of missionaries from the peninsula by the Japanese colonial government in 1942, Balancing Communities examines how the competing demands of communal identities and memberships shaped the early history of Protestantism in Korea. In so doing, the author challenges the conventional history of Korean Protestantism in terms of its relationship to the (South) Korean nation-state. Conversion to Christianity granted Koreans membership in a faith-based organization that, at least in theory, transcended national and political boundaries. As a result, Korean Christians possessed dual membership in a transnational religious community and an earthly political state. Some strove to harmonize these two associations. Others privileged one membership over the other. Regardless, the potential for conflict was always present.
Balancing competing demands was not simply a Korean issue. Missionaries also struggled to reconcile their national allegiances, political identities, and religious partnerships with both Korean Christian leaders and government officials. Improperly calibrated communal demands produced conflict and instability among missionaries, Korean Christians, and the state. These demands led to struggles for control over social institutions such as hospitals and schools, incited schisms and debates over church membership, and challenged state power and social patterns. When they were balanced differently, these demands could lead to surprisingly stable and long-lasting relations. The price of this stability, however, was often the perpetuation of inequality, for the language of community masked the hierarchy of power embedded in these associations.
Scholars of both Korea and World Christianity have identified South Korea as a prime example of the "successful" spread of Christianity outside Euro-America in the nineteenth and twentieth centuries. Paul S. Cha interrogates the construction of Korean Protestantism and successfully argues that frameworks anchored to nationalism or the nation-state fail to capture the complexities of this religion's history in Korea and the relationships that formed among Korean Christians, missionaries, and government officials, especially during the colonial period.
 
American-Iranian Dialogues: From Constitution to White Revolution, c. 1890s-1960s, edited by Matthew K. Shannon (Bloomsbury Academic, November 2021)
Bringing together historians of US foreign relations and scholars of Iranian studies, American-Iranian Dialogues examines the cultural connections between Americans and Iranians from the constitutional period of the 1890s through to the start of the White Revolution in the 1960s.
Taking an innovative cultural approach, chapters are centred around major themes in American-Iranian encounters and cultural exchange throughout this period, including stories of origin, cultural representations, nationalism and discourses on development. Expert contributors draw together different strands of US-Iranian relations to discuss a range of path-breaking topics such as the history of education, heritage exchange, oil development and the often-overlooked interactions between American and Iranian non-state actors.
Through exploring the understudied cultural dimensions of US-Iranian relations, this book will be essential reading for students and scholars interested in American history, international history, Iranian studies and Middle Eastern studies.
 
Open Hearts, Closed Doors: Immigration Reform and the Waning of Mainline Protestantism, by Nicholas T. Pruitt (NYU Press, June 2021)
Open Hearts, Closed Doors uncovers the largely overlooked role that liberal Protestants played in fostering cultural diversity in America and pushing for new immigration laws during the forty years following the passage of the restrictive Immigration Act of 1924. These efforts resulted in the complete reshaping of the US cultural and religious landscape.
During this period, mainline Protestants contributed to the national debate over immigration policy and joined the charge for immigration reform, advocating for a more diverse pool of newcomers. They were successful in their efforts, and in 1965 the quota system based on race and national origin was abolished. But their activism had unintended consequences, because the liberal immigration policies they supported helped to end over three centuries of white Protestant dominance in American society.
Yet, Pruitt argues, in losing their cultural supremacy, mainline Protestants were able to reassess their mission. They rolled back more strident forms of xenophobia, substantively altering the face of mainline Protestantism and laying foundations for their responses to today's immigration debates. More than just a historical portrait, this volume is a timely reminder of the power of religious influence in political matters.
 
The Americans of Urumia: Iran's First Americans and their Mission to the Assyrian Christians, by Hooman Estelami (Bahar Books, May 2021)
Beginning in the 1830s, a small group of Americans began to settle in remote regions of northwestern Iran. Generation after generation of these Americans grew up in the Urumia region, formed their families, labored, and died there. Their work resulted in the establishment of Iran's first medical college, a massive school system, and evangelical services for Persia's Assyrian Christian population. They had deep humanitarian ambitions that impacted Iran for eight decades and formed the earliest connections between Americans and Iranians. Their work came to an abrupt and violent end due to the First World War, and history has since forgotten them. Using missionary memoirs and writings, archival records, and vintage photographs, The Americans of Urumia profiles America's initial connections to Iran and profiles four influential Americans who served in the Urumia region between 1835 and 1918.
 
Please contact us to let us know about forthcoming publications. We will update the list periodically but will always aim for about a dozen books published within the last five years.