Recent Works by Our Researchers
The Presbyterian Historical Society's holdings support scholarship on a vast range of topics. On this page, we present a selection of recent publications by researchers who have worked with our collections.
Saving the Overlooked Continent: American Protestant Missions in Western Europe, 1940–1975, by Hans Krabbendam (Leuven University Press, December 2020)
Among a wide spectrum of American Protestants, the horrors of World War II triggered grave concern for Europe's religious future. They promptly mobilized resources to revive Europe's Christian foundation. Saving the Overlooked Continent reconstructs this surprising redirection of Western missions. For the first time, Europe became the recipient of America's missionary enterprise.
The American missionary impulse matched the military, economic, and political programs of the US, all of which positioned the United States to become Europe's dominant partner and point of cultural reference. One result was the importation of the internal conflicts that vexed American Protestants theological―tensions between modernists and traditionalists, and organizational competition between established churches and independent parachurch associations. Europe was offered a new slate of options that sparked civic and ecclesiastical responses.
But behind these contending religious networks lay a considerable overlap of goals and means based on a shared missionary trajectory. By the mid-1960s, most Protestant American agencies admitted that the expectation of a religious revival had been too optimistic despite their initiatives having led to an integration of Europe in the global evangelical network. The agencies reconsidered their assumptions and redefined their strategies. The initial opposition between inclusive and exclusive approaches abated, and the path opened to a sustained cooperation among once-fierce opponents.
The Contextualized Psalms (Punjabi Zabur): A Precious Heritage of the Global Punjabi Christian Community, by Yousaf Sadiq (Wipf & Stock, November 2020)
The metrical translation of the Psalms into the Punjabi language, set to indigenous music in the late nineteenth century in India, plays a vital role in the personal and communal worship of the global Punjabi Christian community. The Contextualized Psalms is a pioneer work that comprehensively encompasses the cultural, socio-historical, missional, and sociolinguistic aspects of the Punjabi Psalter. It investigates the unique and fascinating story of the contextualizing of Psalms in an exclusive South Asian Punjabi context and engages in an in-depth study on the life and work of Rev. Dr. Imam-ud-Din Shahbaz. This work determines to bring a deeper appreciation for the Punjabi Psalter by encouraging the Punjabi Christians to not only pass the Psalms on to the next generations but also to grow in loving and valuing their mother-tongue, the Punjabi language. The thrust of this book is to esteem the shared heritage of the global Punjabi Christian community--the Psalms in Punjabi, commonly known as the Punjabi Zabur.
Read the author's article, "A Precious Gift: The Punjabi Psalms and the Legacy of Imam-ud-Din Shahbaz" in the International Bulletin of Missionary Research.
Saving the Nation: Chinese Protestant Elites and the Quest to Build a New China, 1922-1952, by Thomas H. Reilly (Oxford University Press, September, 2020)
While Protestant Christians made up only a small percentage of China's overall population during the Republican period, they were heavily represented among the urban elite. Protestant influence was exercised through churches, hospitals, and schools, and reached beyond these institutions into organizations such as the YMCA (Young Men's Christian Association) and YWCA (Young Women's Christian Association). The YMCA's city associations drew their membership from the urban elite and were especially influential within the modern sectors of urban society.
Chinese Protestant leaders adapted the social message and practice of Christianity to the conditions of the republican era. Key to this effort was their belief that Christianity could save China that is, that Christianity could be more than a religion focused on saving individuals, but could also save a people, a society, and a nation. Saving the Nation recounts the history of the Protestant elite beginning with their participation in social reform campaigns in the early twentieth century, continuing through their contribution to the resistance against Japanese imperialism, and ending with Protestant support for a social revolution.
The story Thomas Reilly tells is one about the Chinese Protestant elite and the faith they adopted and adapted, Social Christianity. But it is also a broader story about the Chinese people and their struggle to strengthen and renew their nation to build a New China.
Protestant Missionaries & Humanitarianism in the DRC: The Politics of Aid in Cold War Africa, by Jeremy Rich (James Currey, September 2020)
In the wake of the civil wars in Congo from 1960 to 1973, international and internal struggles for power led to famines, the collapse of public health and a huge population of refugees. Protestant Missionaries & Humanitarianism in the DRC explores the role played by missionaries from the US, Canada and the UK who organized aid, and shows how they had to redefine their roles in independent Africa after the end of colonialism. Partnering US government officials to overcome the humanitarian crisis asthe politics of aid threatened to sink their efforts, Protestant aid programs also worked with US-backed Congolese military efforts to crush leftist rebels and joined with Angolan rebels to help hundreds of thousands of Angolan refugees fleeing Portuguese colonialism. After Mobutu Sese Seko seized power in 1965, they found themselves adjusting with difficulty to the rise of Congolese religious leaders who demanded aid workers and donor agencies accept African control over development projects.
In this examination of the changing history of humanitarianism in Central Africa, the author shows how aid workers, who believed themselves to be politically neutral humanitarians, had to question their privileged role, and negotiate new ways of collaboration. Offering material aid and support, they hoped to heal the wounds of colonial repression and the violence of independence - abandoned hospitals, starving refugees, economic recession - yet also sought to ensure a Christian Congo would emerge allied to Western countries. The author explores the role of Protestant aid workers in the ethnic violence of South Kasai province; shows how Protestant aid became a tool in US-back counterinsurgency campaigns against leftist rebels; examines the interplay of Congolese and Western medicine in the work of Protestant medical volunteers; and discusses conflict in the aims ofthe missionaries and Africans over the control of aid funds and aid initiatives.
A Higher Mission: The Careers of Alonzo and Althea Brown Edmiston in Central Africa, by Kimberly D. Hill (University Press of Kentucky, August 2020)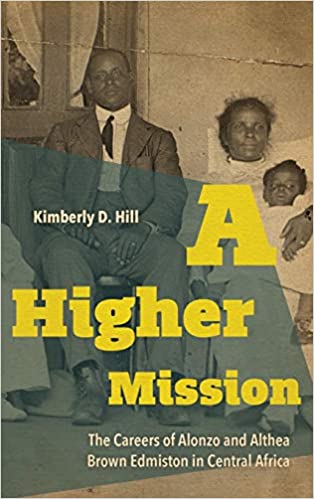 In this vital transnational study, Kimberly D. Hill critically analyzes the colonial history of central Africa through the perspective of two African American missionaries: Alonzo Edmiston and Althea Brown Edmiston. The pair met and fell in love while working as a part of the American Presbyterian Congo Mission―an operation which aimed to support the people of the Congo Free State suffering forced labor and brutal abuses under Belgian colonial governance. They discovered a unique kinship amid the country's growing human rights movement and used their familiarity with industrial education, popularized by Booker T. Washington's Tuskegee Institute, as a way to promote Christianity and offer valuable services to local people.
From 1902 through 1941, the Edmistons designed their mission projects to promote community building, to value local resources, and to incorporate the perspectives of the African participants. They focused on childcare, teaching, translation, construction, and farming―ministries that required constant communication with their Kuba neighbors. Hill concludes with an analysis of how the Edmistons' pedagogy influenced government-sponsored industrial schools in the Belgian Congo through the 1950s.
A Higher Mission illuminates not only the work of African American missionaries―who are often overlooked and under-studied―but also the transnational implications of black education in the South. Significantly, Hill also addresses the role of black foreign missionaries in the early civil rights movement, an argument that suggests an underexamined connection between earlier nineteenth-century Pan-Africanisms and activism in the interwar era.
Watch Dr. Hill discuss her book on PHS Live.
See Dr. Hill and Edmiston family members talk about visiting the PHS archives.
Of One Blood All Nations: John Bingham: Ohio Congressman's Diplomatic Career in Meiji Japan (1873-1885), by Sam Kidder (Piscataqua Press, August 2020)
Of One Blood All Nations chronicles the life of John Bingham starting with his childhood in Ohio through his diplomatic career in Meiji Japan. Called the father of the 14th Amendment, John Bingham was a key political figure in America's Reconstruction era. His twelve years as America's senior diplomat in Japan came at a crucial time in the emerging bilateral relationship.
"Kidder, with first-hand knowledge of both diplomacy and Japan, recalls for us an often forgotten and undervalued diplomat: John Bingham. A relentless researcher active on both sides of the Pacific, Kidder is especially insightful in exploring Bingham's connections with Ohio politicians and neighbors and Washington colleagues, all vital to his lengthy and productive tenure in Japan."     - Prof. Jack Hammersmith, West Virginia University, author Spoilsmen in a Flowery Fairyland.
"I have been very pleased to see Mr. Kidder's research on John Bingham whose contribution to Japan and America has been neglected for too long. I recommend this book to anyone interested in the early diplomatic and cultural relationship between our two great Pacific nations."     - Prof. K. Nakajima, PhD, Tohoku University, visiting professor Meiji Gakuin University.
"Using extensive research and drawing on his own personal experience working in and with the US Embassy in Tokyo, Sam Kidder has produced a fast-paced narrative of John Bingham's years before, during and after his posting in Japan. Whether you are a student or a practitioner in the area of US-Japan relations, you cannot miss this story of the competence, respect and decency that Bingham brought to his engagement with Japan."     - Ambassador Larry Greenwood, Japan Society of Northern California
"John Bingham is widely remembered for his time in Congress, where he helped draft the 14th Amendment and delivered closing arguments during the impeachment trial of President Andrew Johnson. As Sam Kidder makes clear in this well researched and richly detailed study, Bingham's second political act, as lead U.S. diplomat to Japan, is equally worthy of historical reflection as he used his principled political skills to lead the U.S. delegation during the transformational Meiji Period. His work in Japan strengthened a bilateral relationship that only the imperial ambitions of the 20th century would undo."     - Nancy J. Taylor, Executive Director, Presbyterian Historical Society
MOVE: An American Religion, by Richard Kent Evans (Oxford University Press, June 2020)
What is a religion? That is the question that Richard Kent Evans attempts to answer in this book. He does so through the story of MOVE, a little-known group with a fascinating story.
MOVE emerged in Philadelphia in the early 1970s. It was a small, mostly African American group devoted to the teachings of John Africa. In 1985, the Philadelphia Police Department -- working in concert with federal and state law enforcement -- attacked a home that "MOVE people" as they preferred to be known, shared in West Philadelphia. Hundreds of police officers and firefighters laid siege to the building using tear gas, ten thousand rounds of ammunition, and improvised explosives. Most infamously, a police officer riding in a helicopter dropped a bomb containing C-4 explosives, which he had acquired from the FBI, onto the roof of the MOVE house. The bomb started a fire, which officials allowed to spread in hopes of chasing the MOVE people out of the house. Police officers fired upon those who tried to escape the flames. Eleven MOVE people died in the attack, including John Africa. Five of those who died were children.
In MOVE: An American Religion, Richard Kent Evans tells the story of MOVE -- a story that has been virtually lost outside of Philadelphia. What was MOVE? Many MOVE members thought of themselves as belonging to a religion, and they sought legal recognition. But to others, including other religious groups like the Quakers and, more importantly, the courts, MOVE was anything but a religion. Evans dives deep into how we decide what constitutes a genuine religious tradition, and the enormous consequences of that decision.
Sarah and Her Sisters: American Missionary Pioneers in Arab Female Education, 1834-1937, by Rev. Robert D. Stoddard, Jr. (Hachette-Antoine, June 2020)
When newly married Sarah Smith arrived in Beirut in 1834, she was appalled by the ignorance and ill treatment of Arab women and girls. Well educated for her times, she was not content just to keep house for her missionary husband. Rather, having taught Mohegan Indians in Connecticut, she, in her two remaining years, opened a small school for girls that began the transformation of education for Arab females.
Sarah's pioneering venture inspired a series of Protestant "sisters," married and single, to follow in her wake as missionary teachers. Leaving loved ones and the comforts of home behind, they crossed two perilous seas, learned Arabic, and against great odds continued her work in elementary and then secondary and higher education. Sarah's posthumous memoir was widely read. But the stories of her "sisters" were little known—until now. In Sarah and Her Sisters, these stories are linked in an extraordinary chain of educational achievements despite religious strife, civil war, epidemics, famine, isolation and finally a world war, pandemic and global depression. Regrettably, many "sisters," like Sarah, paid the ultimate price and were buried abroad.
As long as any girls anywhere are denied an education, these stories can inspire teachers of girls and advocates for female education worldwide to persevere. And hopefully coeds at Lebanese American University will be inspired and motivated to excel knowing that their university goes back to Mrs. Smith's Beirut Female School and that they are the direct beneficiaries of Sarah and her sisters.
Read Robert Stoddard's post Sarah Smith and Her Missionary Sisters: Forgotten Advocates for Arab Females on the PHS blog. 
Bring the World to the Child: Technologies of Global Citizenship in American Education, by Katie Day Good (The MIT Press, February 2020)
Today, educators, technology leaders, and policy makers promote the importance of "global," "wired," and "multimodal" learning; efforts to teach young people to become engaged global citizens and skilled users of media often go hand in hand. But the use of technology to bring students into closer contact with the outside world did not begin with the first computer in a classroom. In Bring the World to the Child, Katie Day Good traces the roots of the digital era's "connected learning" and "global classrooms" to the first half of the twentieth century, when educators adopted a range of media and materials―including lantern slides, bulletin boards, radios, and film projectors―as what she terms "technologies of global citizenship."
Good describes how progressive reformers in the early twentieth century made a case for deploying diverse media technologies in the classroom to promote cosmopolitanism and civic-minded learning. To "bring the world to the child," these reformers praised not only new mechanical media―including stereoscopes, photography, and educational films―but also humbler forms of media, created by teachers and children, including scrapbooks, peace pageants, and pen pal correspondence. The goal was a "mediated cosmopolitanism," teaching children to look outward onto a fast-changing world―and inward, at their own national greatness. Good argues that the public school system became a fraught site of global media reception, production, and exchange in American life, teaching children to engage with cultural differences while reinforcing hegemonic ideas about race, citizenship, and US-world relations.
Lucean Arthur Headen: The Making of a Black Inventor and Entrepreneur, by Jill D. Snider (The University of North Carolina Press, January 2020)
Born in Carthage, North Carolina, Lucean Arthur Headen (1879–1957) grew up amid former slave artisans. Inspired by his grandfather, a wheelwright, and great-uncle, a toolmaker, he dreamed as a child of becoming an inventor. His ambitions suffered the menace of Jim Crow and the reality of a new inventive landscape in which investment was shifting from lone inventors to the new "industrial scientists." But determined and ambitious, Headen left the South, and after toiling for a decade as a Pullman porter, risked everything to pursue his dream. He eventually earned eleven patents, most for innovative engine designs and anti-icing methods for aircraft. An equally capable entrepreneur and sportsman, Headen learned to fly in 1911, manufactured his own "Pace Setter" and "Headen Special" cars in the early 1920s, and founded the first national black auto racing association in 1924, all establishing him as an important authority on transportation technologies among African Americans. Emigrating to England in 1931, Headen also proved a successful manufacturer, operating engineering firms in Surrey that distributed his motor and other products worldwide for twenty-five years.
Though Headen left few personal records, Jill D. Snider recreates the life of this extraordinary man through historical detective work in newspapers, business and trade publications, genealogical databases, and scholarly works. Mapping the social networks his family built within the Presbyterian church and other organizations (networks on which Headen often relied), she also reveals the legacy of Carthage's, and the South's, black artisans. Their story shows us that, despite our worship of personal triumph, success is often a communal as well as an individual achievement.
See the author discuss her book at the Surrey History Centre in Woking, England.
A Source Book of Dr. Horace N. Allen, 1858-1884 (vol. I); A Source Book of Dr. Oliver R. Avison, 1895-1898 (vol. III), edited and translated by Hyoung W. Park (Sunin Press, 2019; 2020)
These two Source Books are part of a major ongoing project by Dr. Hyoung Woo Park to identify, present, and translate into Korean documentation of notable medical missionaries to Korea. Drawn from U.S. government records, newspapers, missionary periodicals, and the archives of educational institutions and the Presbyterian Church in the U.S.A., the material presented here will be invaluable to those studying the history of medicine in Korea.
Dr. Horace N. Allen was the first resident Protestant missionary to Korea, and this volume, the first of a planned set of four, includes his familial and educational background, his appointment as a missionary, his early work in China, and his arrival in Inchun and settlement in Seoul in 1884. 
Dr. Oliver R. Avison was the founder of the Severance Hospital and Severance Medical College in Seoul. A strong advocate of medical education and staff development of Korean doctors, he argued for the transfer of Severance to a fully-Korean staff, and more collaboration among missionaries of different denominations. This volume, the third of a four-volume set, extends from Dr. Avison's early settlement at Jejoongwon through the end of 1898.
A Social History of Cuba's Protestants: God and the Nation by James A. Baer (Lexington Books, July 2019)
A Social History of Cuba's Protestants: God and the Nation presents a religious and social history of Cuba, focusing on the Presbyterian and other Protestant churches, to show the continuity of ties between US and Cuban churches before and after the revolution in 1959. By examining the history of Cuba's Protestants as agents of social change within Cuba and as partners with US denominations, James A. Baer offers a unique assessment of Cuba's development as a nation and its relationship with the United States. Scholars of Latin American studies, religion, history, and social movements will find this book particularly useful.
 
Protestants, Gender and the Arab Renaissance in Late Ottoman Syria, by Deanna Womack (Edinburgh University Press, April 2019)
The Ottoman Syrians - residents of modern Syria and Lebanon - formed the first Arabic-speaking Evangelical Church in the region. Protestants, Gender and the Arab Renaissance in Late Ottoman Syria offers a fresh narrative of the encounters of this minority Protestant community with American missionaries, Eastern churches and Muslims at the height of the Nahda, from 1860 to 1915.
Drawing on rare Arabic publications, it challenges historiography that focuses on Western male actors. Instead it shows that Syrian Protestant women and men were agents of their own history who sought the salvation of Syria while adapting and challenging missionary teachings. These pioneers established a critical link between evangelical religiosity and the socio-cultural currents of the Nahda, making possible the literary and educational achievements of the American Syria Mission and transforming Syrian society in ways that still endure today.
Read Deanna Womack's post The Things She Saved: Images and Objects in Missionary Women's Archives on the PHS blog.
 
Please contact us to let us know about forthcoming publications. We will update the list periodically but will always aim for about a dozen books published within the last five years.