Recent Works by Our Researchers
The Presbyterian Historical Society's holdings support scholarship on a vast range of topics. On this page, we present a selection of recent publications by researchers who have worked with our collections.
Bring the World to the Child: Technologies of Global Citizenship in American Education, by Katie Day Good (The MIT Press, February 2020)
Today, educators, technology leaders, and policy makers promote the importance of "global," "wired," and "multimodal" learning; efforts to teach young people to become engaged global citizens and skilled users of media often go hand in hand. But the use of technology to bring students into closer contact with the outside world did not begin with the first computer in a classroom. In Bring the World to the Child, Katie Day Good traces the roots of the digital era's "connected learning" and "global classrooms" to the first half of the twentieth century, when educators adopted a range of media and materials―including lantern slides, bulletin boards, radios, and film projectors―as what she terms "technologies of global citizenship."
Good describes how progressive reformers in the early twentieth century made a case for deploying diverse media technologies in the classroom to promote cosmopolitanism and civic-minded learning. To "bring the world to the child," these reformers praised not only new mechanical media―including stereoscopes, photography, and educational films―but also humbler forms of media, created by teachers and children, including scrapbooks, peace pageants, and pen pal correspondence. The goal was a "mediated cosmopolitanism," teaching children to look outward onto a fast-changing world―and inward, at their own national greatness. Good argues that the public school system became a fraught site of global media reception, production, and exchange in American life, teaching children to engage with cultural differences while reinforcing hegemonic ideas about race, citizenship, and US-world relations.
 
A Source Book of Dr. Horace N. Allen, 1858-1884 (vol. I); A Source Book of Dr. Oliver R. Avison, 1895-1898 (vol. III), edited and translated by Hyoung W. Park (Sunin Press, 2019; 2020)
These two Source Books are part of a major ongoing project by Dr. Hyoung Woo Park to identify, present, and translate into Korean documentation of notable medical missionaries to Korea. Drawn from U.S. government records, newspapers, missionary periodicals, and the archives of educational institutions and the Presbyterian Church in the U.S.A., the material presented here will be invaluable to those studying the history of medicine in Korea.
Dr. Horace N. Allen was the first resident Protestant missionary to Korea, and this volume, the first of a planned set of four, includes his familial and educational background, his appointment as a missionary, his early work in China, and his arrival in Inchun and settlement in Seoul in 1884. 
Dr. Oliver R. Avison was the founder of the Severance Hospital and Severance Medical College in Seoul. A strong advocate of medical education and staff development of Korean doctors, he argued for the transfer of Severance to a fully-Korean staff, and more collaboration among missionaries of different denominations. This volume, the third of a four-volume set, extends from Dr. Avison's early settlement at Jejoongwon through the end of 1898.
 
Longings of the Heart: The Story of Elsie Machle White by Georgene Searfoss (Georgene Searfoss, December 2019)
Longings of the Heart is a biography of Elsie Machle White, a Gold Star Wife of flying ace 1st Lt. Wilbert W. White who was killed in October, 1918, saving the life of a rookie pilot. Born in China in 1890 to Presbyterian medical missionaries, educated at Wooster University as well as Columbia, she persevered through tragedy and difficult times to co-author the book, Our Neighbor, The Chinese. During WWI she was the only wife and mother of two small children whose husband became a pilot with the 147th Aero Squadron.

 
Ireland to the Wild West: A True Story of Romance, Faith, Tragedy, and Hope by Marcus Paul (Ambassador International, December 2019)
Born in 1846 in Ireland at the start of the "Great Hunger," James Kinnier Wilson emigrated to Philadelphia to start a new life at seventeen years old.
After his life took a dramatic turn, he found himself attending Princeton and then a college in Scotland, where he met Agnes Hately, the talented daughter of a famous figure in the Scottish "Disruption"-the emergence of the Free Church of Scotland.
Agnes and James, now newlyweds, crossed the dangerous Atlantic and settled in rural New Jersey. While there, Agnes wrote intimate letters home about her children, the people around her, the church, and the dangers of endemic disease.
Called in 1878 to the Wild West to found churches and to farm, Agnes again revealed in detail the conditions of her life on the frontier and her impressions of American women, cowboys, servant girls, church-goers, and provides some never before seen detail to what is called the "Last Indian Raid in Kansas."
In Ireland to the Wild West, Marcus Paul uses these letters penned by Agnes to take readers on a journey through Agnes and James' engagement, marriage, dangerous travels, and their arrival and life in America.
 
The 1937–1938 Nanjing Atrocities by Suping Lu (Springer, December 2019)
The 1937–1938 Nanjing Atrocities presents a comprehensive overview of the Nanjing Massacre, together with an in-depth analysis of various aspects of the event and related issues. Drawing on original source materials collected from various national archives, national libraries, church historical society archives, and university libraries in China, Japan, Germany, United Kingdom and the United States, it represents the first English-language academic attempt to analyze the Nanjing Massacre in such detail and scope.
The book examines massacres and other killings, in addition to other war crimes, such as rape, looting, and burning. These atrocities are then explored further via a historical analysis of Chinese survivors' testimony, Japanese soldiers' diaries, Westerners' eyewitness accounts, the news coverage from American and British correspondents, and American, British and German diplomatic dispatches.  Further, the book explores issues such as the role and function of the International Committee for Nanking Safety Zone, burial records of massacre victims, post-war military tribunals, controversies over the Nanjing Massacre, and the 100-Man Killing Contest.
This book is intended for all researchers, scholars, graduate and undergraduate students, and members of the general public who are interested in Second World War issues, Sino-Japanese conflicts, Sino-Japan relations, war crimes, atrocity and holocaust studies, military tribunals for war crimes, Japanese atrocities in China, and the Nanjing Massacre.
 
Poisoner in Chief: Sidney Gottlieb and the CIA Search for Mind Control by Stephen Kinzer (Henry Holt and Co., September 2019)
The visionary chemist Sidney Gottlieb was the CIA's master magician and gentlehearted torturer―the agency's "poisoner in chief." As head of the MK-ULTRA mind control project, he directed brutal experiments at secret prisons on three continents. He made pills, powders, and potions that could kill or maim without a trace―including some intended for Fidel Castro and other foreign leaders. He paid prostitutes to lure clients to CIA-run bordellos, where they were secretly dosed with mind-altering drugs. His experiments spread LSD across the United States, making him a hidden godfather of the 1960s counterculture. For years he was the chief supplier of spy tools used by CIA officers around the world.
Stephen Kinzer, author of groundbreaking books about U.S. clandestine operations, draws on new documentary research and original interviews to bring to life one of the most powerful unknown Americans of the twentieth century. Gottlieb's reckless experiments on "expendable" human subjects destroyed many lives, yet he considered himself deeply spiritual. He lived in a remote cabin without running water, meditated, and rose before dawn to milk his goats.
During his twenty-two years at the CIA, Gottlieb worked in the deepest secrecy. Only since his death has it become possible to piece together his astonishing career at the intersection of extreme science and covert action. Poisoner in Chief reveals him as a clandestine conjurer on an epic scale.
 
A Social History of Cuba's Protestants: God and the Nation by James A. Baer (Lexington Books, July 2019)
A Social History of Cuba's Protestants: God and the Nation presents a religious and social history of Cuba, focusing on the Presbyterian and other Protestant churches, to show the continuity of ties between US and Cuban churches before and after the revolution in 1959. By examining the history of Cuba's Protestants as agents of social change within Cuba and as partners with US denominations, James A. Baer offers a unique assessment of Cuba's development as a nation and its relationship with the United States. Scholars of Latin American studies, religion, history, and social movements will find this book particularly useful.

 
Children's Literature and Transnational Knowledge in Modern China: Education, Religion, and Childhood, by Shih-Wen Sue Chen (Palgrave Macmillan, June 2019)
Children's Literature and Transnational Knowledge in Modern China examines the development of Chinese children's literature from the late Qing to early Republican era. It highlights the transnational flows of knowledge, texts, and cultures during a time when children's literature in China and the West was developing rapidly. Drawing from a rich archive of periodicals, novels, tracts, primers, and textbooks, the author analyzes how Chinese children's literature published by Protestant missionaries and Chinese educators in the late nineteenth and early twentieth centuries presented varying notions of childhood. In this period of dramatic transition from the dynastic Qing empire to the new Republican China, young readers were offered different models of childhood, some of which challenged dominant Confucian ideas of what it meant to be a child. This volume sheds new light on a little-explored aspect of Chinese literary history. Through its contributions to the fields of children's literature, book history, missionary history, and translation studies, it enhances our understanding of the negotiations between Chinese and Western cultures that shaped the publication and reception of Chinese texts for children.
 
Protestantism and State Formation in Postrevolutionary Oaxaca, by Kathleen M. McIntyre (University of New Mexico Press, May 2019)
In this fascinating book Kathleen M. McIntyre traces intra-village conflicts stemming from Protestant conversion in southern Mexico and successfully demonstrates that both Protestants and Catholics deployed cultural identity as self-defense in clashes over local power and authority. McIntyre's study approaches religious competition through an examination of disputes over tequio (collective work projects) and cargo (civil-religious hierarchy) participation. By framing her study between the Mexican Revolution of 1910 and the Zapatista uprising of 1994, she demonstrates the ways Protestant conversion fueled regional and national discussions over the state's conceptualization of indigenous citizenship and the parameters of local autonomy. The book's timely scholarship is an important addition to the growing literature on transnational religious movements, gender, and indigenous identity in Latin America.
 
Medicine Women: The Story of the First Native American Nursing School, by Jim Kristofic (University of New Mexico Press, April 2019)
After the Indian wars, many Americans still believed that the only good Indian was a dead Indian. But at Ganado Mission in the Navajo country of northern Arizona, a group of missionaries and doctors--who cared less about saving souls and more about saving lives--chose a different way and persuaded the local parents and medicine men to allow them to educate their daughters as nurses. The young women struggled to step into the world of modern medicine, but they knew they might become nurses who could build a bridge between the old ways and the new.
In Medicine Women: The Story of the First Native American Nursing School, Jim Kristofic traces the story of Ganado Mission on the Navajo Indian Reservation. Kristofic's personal connection with the community creates a nuanced historical understanding that blends engaging narrative with careful scholarship to share the stories of the people and their commitment to this place.
 
Protestants, Gender and the Arab Renaissance in Late Ottoman Syria, by Deanna Womack (Edinburgh University Press, April 2019)
The Ottoman Syrians - residents of modern Syria and Lebanon - formed the first Arabic-speaking Evangelical Church in the region. Protestants, Gender and the Arab Renaissance in Late Ottoman Syria offers a fresh narrative of the encounters of this minority Protestant community with American missionaries, Eastern churches and Muslims at the height of the Nahda, from 1860 to 1915.
Drawing on rare Arabic publications, it challenges historiography that focuses on Western male actors. Instead it shows that Syrian Protestant women and men were agents of their own history who sought the salvation of Syria while adapting and challenging missionary teachings. These pioneers established a critical link between evangelical religiosity and the socio-cultural currents of the Nahda, making possible the literary and educational achievements of the American Syria Mission and transforming Syrian society in ways that still endure today.
Read Deanna Womack's post The Things She Saved: Images and Objects in Missionary Women's Archives on the PHS blog.
 
Perplexing Patriarchies: Fatherhood Among Black Opponents and White Defenders of Slavery, by Pierre Islam (Vernon Press, September 2018)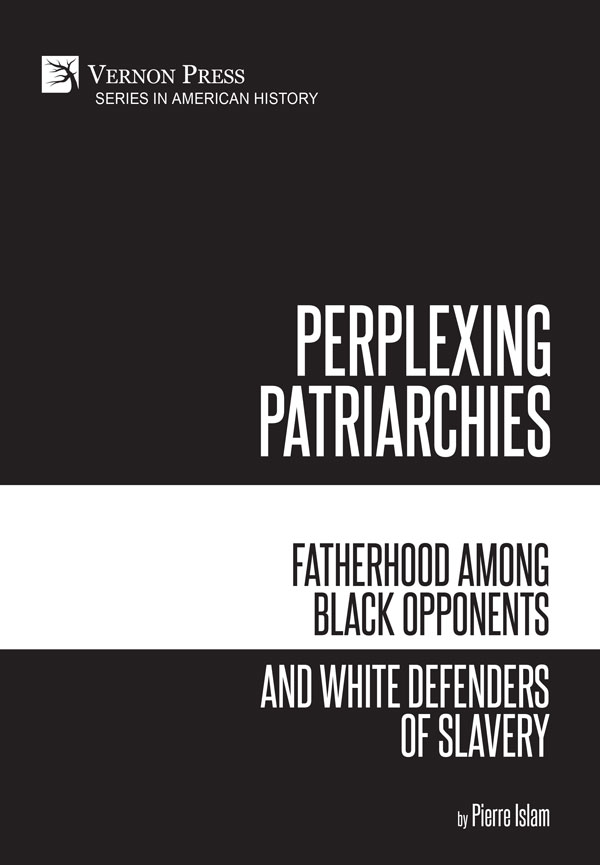 Perplexing Patriarchies examines the rhetorical usage (and lived experience) of fatherhood among three African American abolitionists and three of their white proslavery opponents in the United States during the nineteenth century. Both the prominent abolitionists (Frederick Douglass, Martin Delany, and Henry Garnet), as well as the prominent proslavery advocates (Henry Hammond, George Fitzhugh, and Richard Dabney), appealed to the popular image of the father, husband, and head of household in order to attack or justify slavery.
How and why could these opposing individuals rely on appeals to the same ideal of fatherhood to come to completely different and opposing conclusions? This book strives to find the answer by first acknowledging that both the abolitionists and the proslavery men shared similar concerns about the contested status of fatherhood in the nineteenth century. However, due to subtle differences in their starting assumptions, and different choices of what parts of a father's responsibilities to emphasize, the black abolitionists conceived of an ideal father who protected the autonomy of his dependents, while the proslavery men conceived of one whose authority necessitated the subordination of those he protected.
Finding that these differences arose from choices in starting assumptions and emphases rather than total disagreement on what the role of the father should be, this work reveals that black abolitionists were not radically critiquing the gender conventions of their day, but innovatively working within those conventions to turn them towards social reform. This discovery opens up a new way for historians to consider how oppressed peoples negotiated the intellectual boundaries of the societies which oppressed them: not necessarily breaking entirely from those boundaries, nor passively accepting them, but ingeniously synthesizing a worldview from within their confines that still allowed for freedom and personal autonomy.
 
The Hymnal: A Reading History, by Christopher Phillips (Johns Hopkins University Press, August 2018)
It stands barely three inches high, a small brick of a book. The pages are skewed a bit, and evidence of a small handprint remains on the worn, cheap leather covers that don't quite close. The book bears the marks of considerable use. But why―and for whom―was it made?
Christopher N. Phillips' The Hymnal is the first study to reconstruct the practices of reading and using hymnals, which were virtually everywhere in the eighteenth and nineteenth centuries. Isaac Watts invented a small, words-only hymnal at the dawn of the eighteenth century. For the next two hundred years, such hymnals were their owners' constant companions at home, school, church, and in between. They were children's first books, slaves' treasured heirlooms, and sources of devotional reading for much of the English-speaking world. Hymnals helped many people learn to memorize poetry and to read; they provided space to record family memories, pass notes in church, and carry everything from railroad tickets to holy cards to business letters. In communities as diverse as African Methodists, Reform Jews, Presbyterians, Methodists, Roman Catholics, and Unitarians, hymnals were integral to religious and literate life.
An extended historical treatment of the hymn as a read text and media form, rather than a source used solely for singing, this book traces the lives people lived with hymnals, from obscure schoolchildren to Emily Dickinson. Readers will discover a wealth of connections between reading, education, poetry, and religion in Phillips's lively accounts of hymnals and their readers.
Read Christopher Phillips' post Psalms, Hymns, and…Piracy? on the PHS blog.
 
Gods of Indian Country: Religion and the Struggle for the American West by Jennifer Graber (Oxford University Press, April 2018)
During the nineteenth century, white Americans sought the cultural transformation and physical displacement of Native people. Though this process was certainly a clash of rival economic systems and racial ideologies, it was also a profound spiritual struggle. The fight over Indian Country sparked religious crises among both Natives and Americans.

In The Gods of Indian Country, Jennifer Graber tells the story of the Kiowa Indians during Anglo-Americans' hundred-year effort to seize their homeland. Like Native people across the American West, Kiowas had known struggle and dislocation before. But the forces bearing down on them-soldiers, missionaries, and government officials-were unrelenting. With pressure mounting, Kiowas adapted their ritual practices in the hope that they could use sacred power to save their lands and community.

Against the Kiowas stood Protestant and Catholic leaders, missionaries, and reformers who hoped to remake Indian Country. These activists saw themselves as the Indians' friends, teachers, and protectors. They also asserted the primacy of white Christian civilization and the need to transform the spiritual and material lives of Native people. When Kiowas and other Native people resisted their designs, these Christians supported policies that broke treaties and appropriated Indian lands. They argued that the gifts bestowed by Christianity and civilization outweighed the pains that accompanied the denial of freedoms, the destruction of communities, and the theft of resources. In order to secure Indian Country and control indigenous populations, Christian activists sanctified the economic and racial hierarchies of their day.
Read Jennifer Graber's post The "Problem" of Native American Church Membership on the PHS blog.
 
Please contact us to let us know about forthcoming publications. We will update the list periodically but will always aim for about a dozen books published within the last five years.