Pew Arts & Heritage Project Grant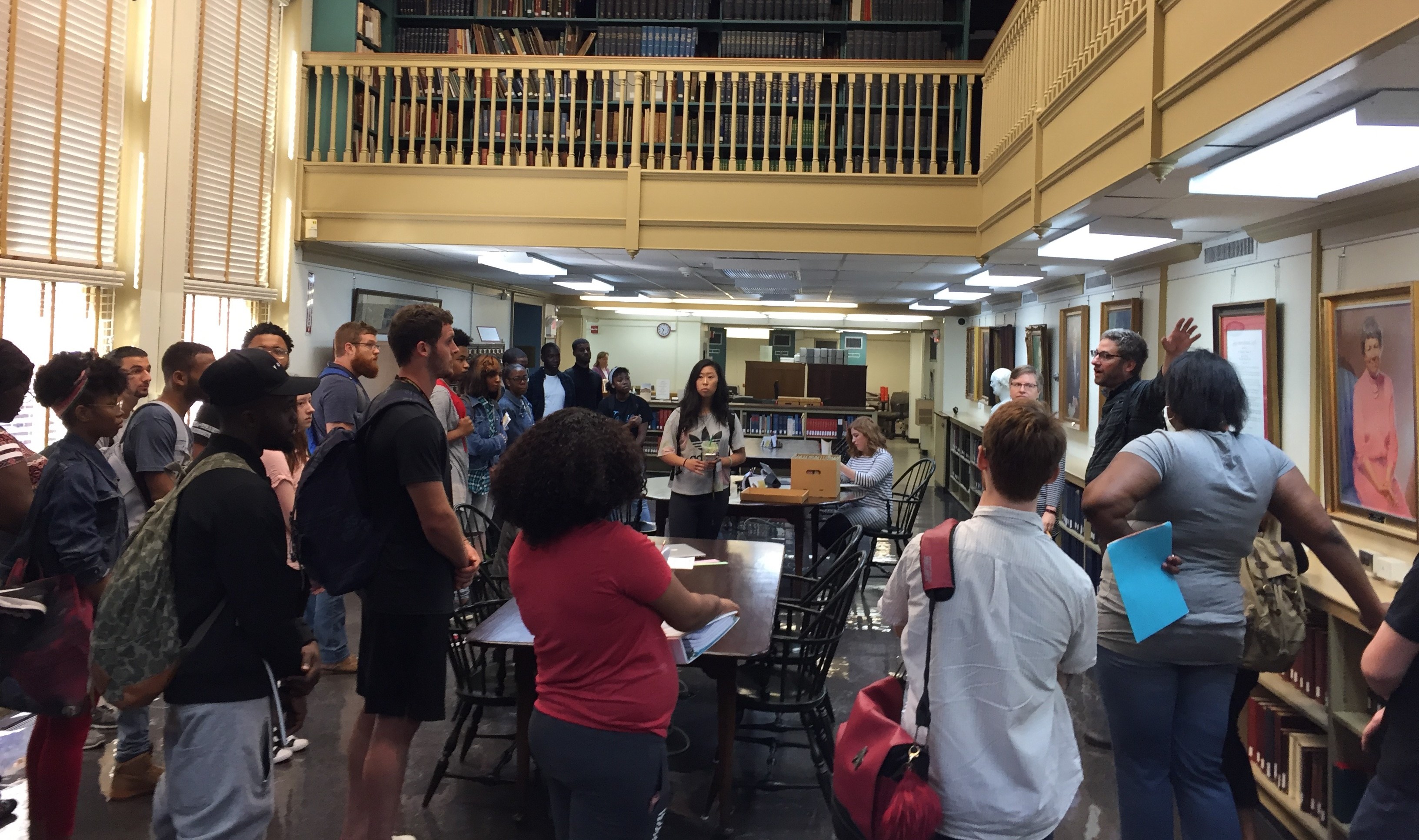 Philadelphia, PA—The Presbyterian Historical Society is a 2018 Pew Center for Arts & Heritage Project Grant recipient.
The grant award provides $285,000 of major support for Building Knowledge and Breaking Barriers: Archives-Based Learning for Philadelphia Students, a two-year project that will help Philadelphia-area community college students use archival materials in their coursework.
PHS Executive Director Beth Hessel is project leader.
"This grant support is an incredible affirmation that the Presbyterian Historical Society is moving in the right direction in our efforts to be a more outwardly facing and inclusive organization," Hessel said.
"I am thrilled for this opportunity to forge deeper and more meaningful connections between the national archives of the Presbyterian Church (U.S.A.) and our local community in Philadelphia."
PHS archival staff will assist project students over four academic semesters. A range of humanities classes including history, religion, English, and the creative arts will explore primary and rare secondary source documents collected at PHS, one of the nation's largest denominational archives.
Jennifer Barr, Technical Services and Reference Archivist, is PHS project liaison to students and instructors from the Community College of Philadelphia, a group she has been assisting since 2017.
"Students handle original manuscripts and publications from the historical periods they are reading about in their textbooks and hearing about in lectures," Barr said. "The documents are direct evidence of the voices that come through in the words on the page, and the physical items themselves, which often bear the marks of age and use over time."
"It's been really fun and gratifying to work with CCP students. My hope is that they leave here feeling empowered to use historical repositories like ours to pursue the answers to questions they have about their community and their nation."
Two project advisors, Joel Tannenbaum and Jaqueline Akins, were the first CCP instructors to plan semester-long interactions with PHS, a collaboration that inspired "Building Knowledge and Breaking Barriers." A third project advisor, Deborah Schwartz, President of the Brooklyn Historical Society, provided recent planning assistance to PHS's educational efforts.
In addition to helping students, student-support networks, and instructors, the project stands to help PHS and the wider archival community empower emerging scholars. Project-culminating in-house and on-line exhibits, led by Keith Ragone and Stacey Mann, will feature the stories and perspectives of student researchers reflecting on their archives-based work.
--
The Presbyterian Historical Society is the national archives of the Presbyterian Church (U.S.A.). Founded in 1852 in Philadelphia, PHS collects, preserves, and shares Presbyterian history with Presbyterians, scholars, and the general public.
The Pew Center for Arts & Heritage is a multidisciplinary grantmaker and hub for knowledge-sharing, funded by The Pew Charitable Trusts, dedicated to fostering a vibrant cultural community in Greater Philadelphia. The Center invests in ambitious, imaginative, and catalytic work that showcases the region's cultural vitality and enhances public life, and engages in an exchange of ideas concerning artistic and interpretive practice with a broad network of cultural practitioners and leaders.