James Smylie: Presbyterian Historian Extraordinaire
--Beth Shalom Hessel, Executive Director
On January 5, 2019, one of the standard bearers for Presbyterian history, James Hutchinson Smylie, joined the great cloud of witnesses who have completed the race. As we join with family, friends, and colleagues in remembering his life and a ministry well-done during his memorial service on February 1, we remember Jim for his prodigious and excellent scholarship that has invited generations of Presbyterian laity, pastors, and scholars to a deeper understanding of the deep connections between our faith and our world. We remember him for his humor and humanity as well as his habit of bringing out the best in those around him, all grounded in his strong faith and commitment to our particular arm of Christ's church.
"Jim Smylie was the dean of American Presbyterian history for a very long time. And he will remain as such, joining others whose scholarly contributions helped us understand why these 'few of the folks of faith' had such an impact on the global community.
"Jim believed strongly that our history had to be usable. He consistently displayed a deep concern for making the lessons of history available to grassroots congregations. This vision was the driving force behind his long tenure as the Editor of The Journal of Presbyterian History. While highly regarded and respected by the academic community, he never lost sight of the fact that Presbyterian history had to be understood by the church at large.
"His leadership as JPH Editor focused on identifying those significant historical issues and events that informed the present. Thus emerged "special issues" of The Journal that focused on Presbyterian participation in the American Revolution, the Constitution, ecumenism, the foreign and domestic mission efforts, the First and Second World War, and the development of the American western frontier, Progressivism, and the struggle for Civil Rights, among many other important topics and themes.
"John Adams once remarked that there is no way to determine the limits of a teacher's influence. By helping Presbyterians remember their past, Jim also helped, as a good teacher should, to come to terms with it as well. Jim Smylie's prodigious record as a teacher, scholar, and editor has and will continue to influence generations of students of American and Church history."
--Frederick Heuser, PHS Executive Director Emeritus
"In remembering Jim Smylie, I recall an apocryphal story told by one of my graduate school professors. It concerned a young Oxford don during World War I. With most British males of his age in uniform, this civilian stood out. One day a patriotic lady approached him and asked, 'Sir, what are you doing to save western civilization?' The don replied, 'Madam, I am western civilization!'
"The anecdote comes to mind because, for decades, Jim Smylie was the one person of whom it could most truthfully be said: He was Presbyterian history – the embodiment of that field of study. Yet he wore his great learning lightly. His humor, gentleness, and concern for people revealed a pastoral heart inside the scholar. Jim was a wonderful teacher, mentor, and friend to countless students and colleagues."
--James Moorhead, Senior Editor of The Journal of Presbyterian History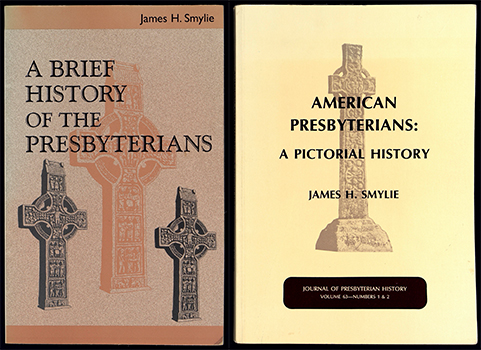 "Jim Smylie was a bundle of energy and creativity. Very organized, but very creative. He was also a very southern gentleman. By that I mean, he wanted to know who your kin were and how they were doing—and always asked about family before he would introduce the topic of the day. He was fiercely loyal to the PHS northern stream and to the PC(USA).
"He was a storyteller. His greatest work was the pictorial history of the denomination. He told me the story (and others, too) that when that compilation was nearly done, he brought copies of the photos and set them up around the PHS reading room to illustrate what the book would look like. To his chagrin, there were cracks between the back of the shelves and the wall, and several photos slipped away, never to be seen again."
--Virginia Rainey, PHS Board member and author of Stewards of our Heritage: A History of the Presbyterian Historical Society
"Jim Smylie was a first-rate minister of the Gospel! Jim taught, preached, and lived an exemplary Christian life. His good humor and lack of pretention might fool you into underestimating his scholarly acumen and rigor in discerning crucial elements in the Church and the world. Jim challenged others, including me, to follow him in discipleship.
"Jim and Elizabeth provided profuse hospitality for us as students in the 1960s. Jim permitted me as an entering student to join a senior seminar he taught on American Christianity. When I turned in a paper he even asked if I would like to publish it. Flattered, I said, 'sure,' not knowing he would work me through five additional drafts before he was willing to send it to The Journal of Presbyterian History, where Jim Nichols was then editor. When I was going to the final legs of the Selma-Montgomery March, Jim gave me $75 (a lot of money to us then, and even to the Smylie family) to help pay for it. Whenever I wrote something for the JPH or other Presbyterian media, Jim (by then editor) sent me a detailed critique if not a call to rewrite it.
"When I first returned to Union Seminary in Richmond as President, before the federation with the Presbyterian School of Christian Education, some faculty tried to ostensibly ferret out heretics and liberals, and in the ensuing melee Jim Smylie pointed us all toward the irenic and generous interpretation of Reformed Christianity. He related the many times the Reformed had taken courageous stands on behalf of progressive issues and racial and gender inclusivity. When we got the rare opportunity to team-teach, Jim would keep bringing in examples and texts that enlarged our vision, increased our sensibilities, and assisted our witness.
"Jim's faith, his hope, and his love were transparent. He was truly a Presbyterian saint."
--Louis Weeks, former chair of PHS Board of Directors and current Advisory Council member
As these heartfelt remembrances show, Jim was an accomplished historian, a person of deep faith, and a believer in the power of story. At the Presbyterian Historical Society, hardly a day goes by when his books and articles are not referenced. Through his scholarship, we all have the chance to learn from him for a long time to come.
Find out more about James Smylie's work
Collection items in Calvin database
Collection items in Sheppard database