CWS Response to Hurricane Flora (1963)
As Philadelphia—home of the National Archives of the PC(USA)—began its post-flood clean-up, and grassroots organizations worked to allocate life-sustaining resources, we turned to examine past examples of disaster relief efforts.
Browsing through Church World Service Records (RG-529), we discovered a file on the 1963 response to Hurricane Flora's deadly and destructive passage through Haiti. CWS, an ecumenical relief agency formed after World War II, began expanding its efforts beyond Europe and China into Africa, Latin America, and the Middle East in the 1960s and 70s. The following photographs and more have been digitized and are now viewable in Pearl.
Several projects were initiated in Haiti in response to Flora, as noted in the 1963-64 Church World Service Annual Reports [RG529-108-9] and described in the written reports of Evelyn E. Grisso [RG529-103-5]. Arriving in Côtes-de-Fer five weeks after Flora passed through the area, Grisso observed the fifteen Mennonite Disaster Team volunteers rebuilding communities with the help of CWS. Through the ecumenical agency, building materials and cement block machines were delivered to aid in the construction of 82 homes. Direction came from Haitian agencies, who determined the most efficient use of resources.
The distribution of supplies was a logistical challenge, given that roads into towns were either non-existent or badly damaged. From Grisso's reports:
"[F]ood has been shipped from the states through Church World Service to Port-au-Prince. There [it is] loaded on a smaller freighter and brought to the two ports which were in the path of destruction. Because there is no pier, small fishing craft numbering about 7 boats, must be used for carrying the 100 pound sacks to the beach. From the beach another group of 25 to 30 men are needed to carry the sacks from the beach to the warehouses. These groups work until after sunset some days."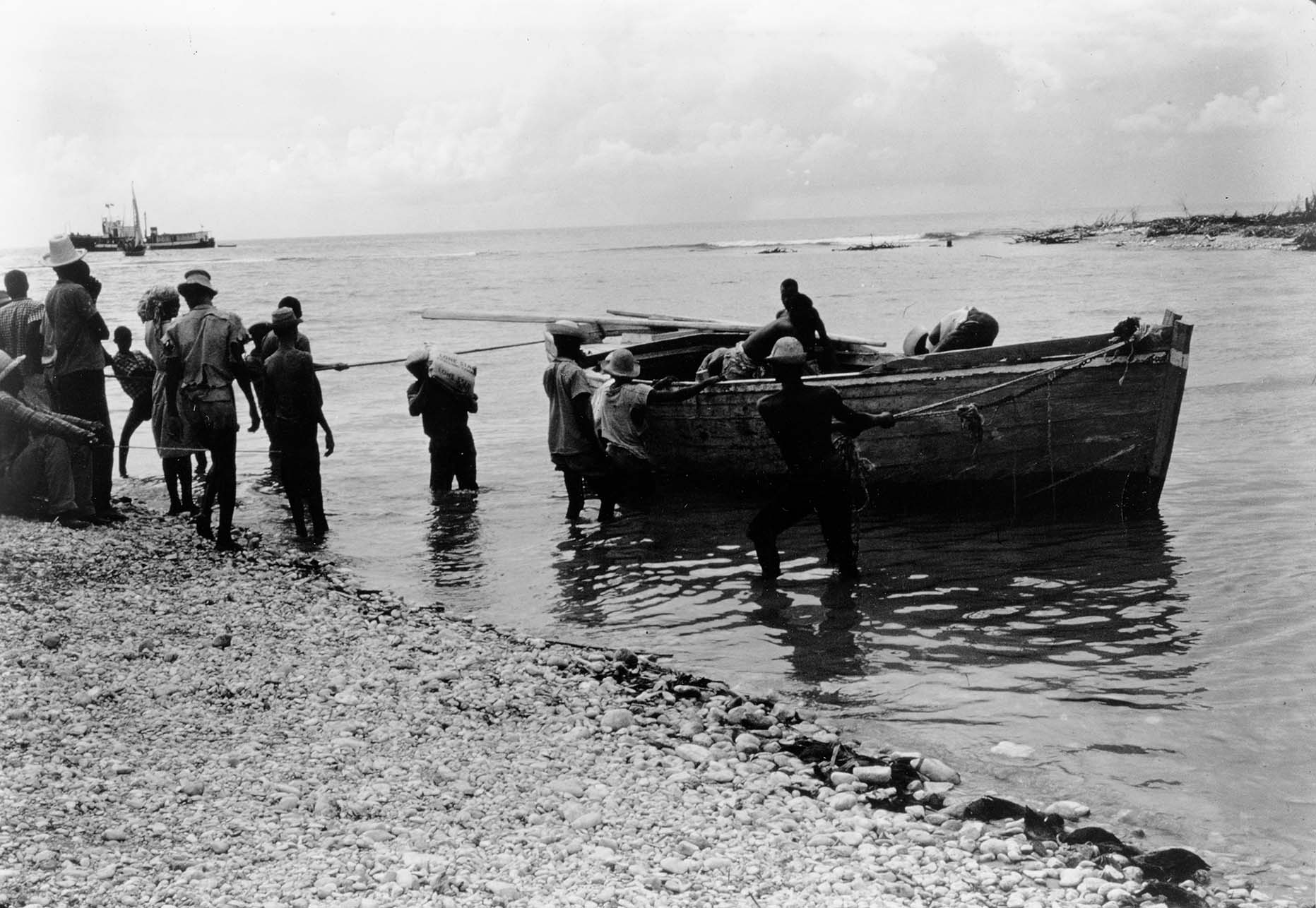 Medical relief was organized quickly; teams went into various mountainous regions to reach those farther from the coast, delivering medical attention and vaccines. Approximately three months after the first Mennonite Disaster Service team arrived at Côtes-de-Fer, a dedication service was conducted to conclude the post-disaster relief efforts (although long-term infrastructure and development projects were still underway). Grisso described the event:
"As the teams, officials and leaders relaxed at the reception following, one couldn't help but note that a greater spirit was a[t] work and a greater result brought about than just building houses," Grisso wrote. "To see people of different races, religion, countries and language mingle and communicate with one another, and thus bringing about better understanding and hope, one can't help but feel grateful, too, that out of chaos there has come good…."
In the face of increasingly severe climate-related catastrophes, it is crucial that we hold corporations accountable for their role in causing and perpetuating climate change. In the relief efforts that follow, we must continue to demand a more equitable distribution of resources from our local leaders and policymakers. The make or break is in the spaces in between, where despite systemic failings, our individual capacities to engage in mutual aid practices is what will hold communities together.
From the forward of the 1964 Church World Service Annual Report written by Hugh D. Farley, CWS Executive Director:
"Indeed, the particular virtue of the service concept is that it demands a relatively unself-conscious response to a human condition of distress, without primary regard for structure, organization, or even for the church itself. In this sense, service is truly evangelical, in the pattern of Christ's response to those who happened in his way and asked his help."