Now Processed: David and Polly Miller Papers
The David and Polly Miller Papers have been processed as Record Group 537, and the guide to the records is now available: https://www.history.pcusa.org/collections/research-tools/guides-archival-collections/rg-537
The processed collection totals 19 boxes. The collection's scope chiefly covers the missionary careers of the Millers, particularly David's roles and work within the Presbyterian Church in the U.S. (PCUS) and the Presbyterian Church (U.S.A.), including his work as Coordinator/Liaison for Southern Africa and with the PC(USA)'s PECGA program. The materials are primarily in English with some items in Afrikaans, French, Tshiluba, Malagasy, Portuguese, and Sesotho.
David Vines Miller was born in Johnson City, Tennessee, on August 23, 1926. He attended East Tennessee State College from 1946 to 1948 before transferring to Davidson College in Davidson, North Carolina, where he graduated in 1950 with a Bachelor of Science degree. Polly Jean Yandell was born in Charlotte, North Carolina, on July 3, 1927. She attended Mars Hill College (now Mars Hill University in Mars Hill, North Carolina) and earned an A.A. degree in business. The two met while David was attending Davidson College. Polly later attended the General Assembly's Training School for Lay Workers (later called the Presbyterian School of Christian Education), and David enrolled at Union Theological Seminary (now Union Presbyterian Seminary) in Richmond, Virgina. The two married on June 6, 1952. Two years later, David graduated with a Bachelor of Divinity degree and was ordained by Holston Presbytery. After studying French at the Colonial School (Colonial University of Belgium) in Brussels, the Millers were assigned to the Luebo Station of the American Presbyterian Congo Mission in August 1954, which began the couple's careers as missionaries of the PCUS.
David and Polly spent 23 years in the Congo, where they were witnesses to a period of intense political fluctuation.
They saw the Belgian Congo gain independence from Belgium in 1960, and witnessed the former colony adopt a new name in 1964: the Democratic Republic of the Congo (DRC). After gaining independence, however, the DRC was confronted with an outbreak of several secessionist movements. In 1965, a coup was organized, and Mobutu seized power of the DRC, renaming the country Zaire in 1971. Mobutu would remain in power, imposing a dictatorship over Zaire until his overthrow in 1997.
The DRC is bordered to the northwest by the Republic of the Congo, a part of the Congo that was formerly colonized by the French. The Millers saw the establishment of the Republic of the Congo in 1958, and witnessed the area's independence from France two years later. In 1969, David and Polly watched as the Republic of the Congo became a Marxist–Leninist state, called the People's Republic of the Congo. This would last until 1992.
While serving in the Congo, David worked as an itinerating pastor, translator, and member of the Evangelism Department of the Presbyterian Church in the Congo (Église Presbytérienne au Congo), where he also served as Moderator. In 1977, the PCUS Board of World Missions assigned the Millers to serve with the Lesotho Evangelical Church (Kereke ea Evangeli Lesotho), where David was Projects Officer and oversaw projects pertaining to evangelism and church growth, village water systems, school buildings, Christian education, and agriculture.
During David and Polly's time in Lesotho and during their time living in Harare, Zimbabwe, David worked as the Coordinator/Liaison for Southern Africa and with the PC(USA)'s Evangelism, Church Growth, and Theological Education Project. Also referred to as the Project for Evangelism and Church Growth in Africa (PECGA), this program was part of the PC(USA) Global Mission Unit. PECGA's purposes were to assist in building new centers of worship and witness, to assist in renovating and rebuilding churches in areas of limited local resources, to support ministerial training for candidates, to provide support for construction of church-related educational facilities, and to support local and national church officer and Christian educational training initiatives for Presbyterian and Reformed churches, particularly in Southern Africa.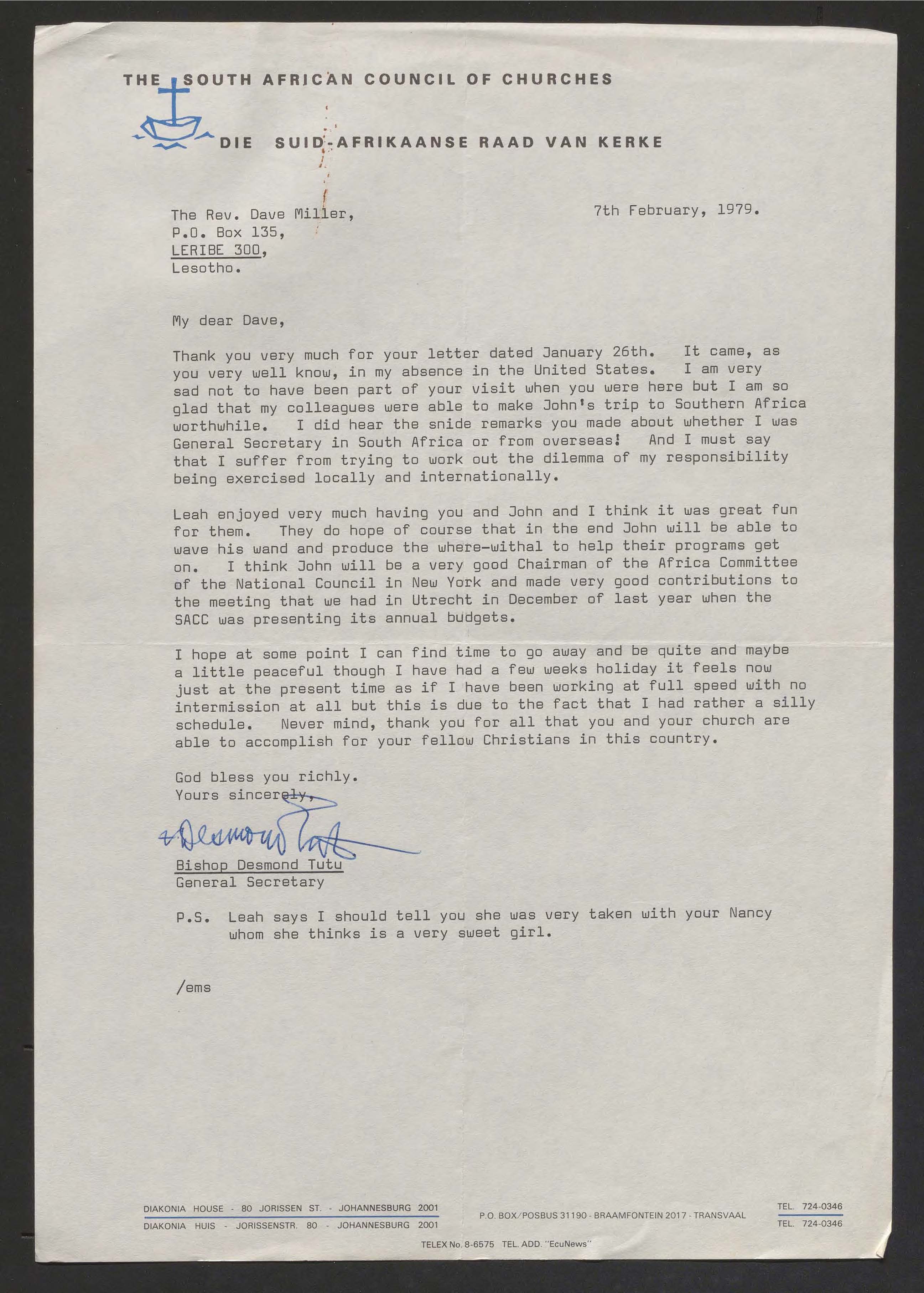 David and Polly retired from mission service in 1994 and left Zimbabwe to return to the U.S., where they settled in Black Mountain, North Carolina. They continued to itinerate throughout the PC(USA) to promote mission involvement. David died on December 23, 2019.
The collection includes three series. Series I, Country and Region Files, circa 1952-2006, contains files of architectural records, correspondence, financial records, minutes, photographs (prints and negatives), reports, printed materials, and other records arranged by country, then region. Materials in the Congo and Lesotho file groups chiefly document David and Polly's time as missionaries in those countries. Materials in the Botswana, Madagascar, Malawi, Mauritius, Mozambique, Namibia, South Africa, Swaziland (Eswatini), Zambia, and Zimbabwe file groups chiefly document David's work as Coordinator/Liaison for Southern Africa and his work on projects with participating African churches and other Christian entities through the PECGA program. Many of these projects pertain to the construction and renovation of church buildings and educational facilities. Materials in the Southern Africa region file group document David's work as Coordinator/Liaison for Southern Africa throughout the region of Southern Africa.
Series II, Other PCUS / PC(USA) Files, 1950-2006, contains correspondence, financial records, reports, printed materials, and other records chiefly documenting David's communications with PCUS / PC(USA) entities and ecumenical entities, David and Polly's itineration work in the United States, and David and Polly's communications with churches that supported their mission work. Entities and events represented include the Board of World Missions (PCUS), conferences in Montreat (North Carolina), and the PECGA program. The furlough / itineration file group chiefly contains correspondence and printed materials that document David and Polly's visits to Presbyterian churches to speak and teach about their experiences as missionaries. The supporting churches file group chiefly contains correspondence documenting specific churches' financial support for David and Polly's mission work and David's work through the PECGA program.
Series III, Personal Papers, circa 1936-2002, contains correspondence, financial records, photographs, and other records that David and Polly identified as personal in nature. Included is a file pertaining to their missionary service. Also in the series are the papers of Rev. Charles and Anne McKee, PCUS missionaries in the Belgian Congo and Zaire from 1949 to 1976. These materials include correspondence, ministerial and professional papers, and printed items, with many of the materials in the Tshiluba language.
Click here to access the guide to the David and Polly Miller Papers and read more about the contents of each series.