Chicago Women's Liberation Union at GA 1970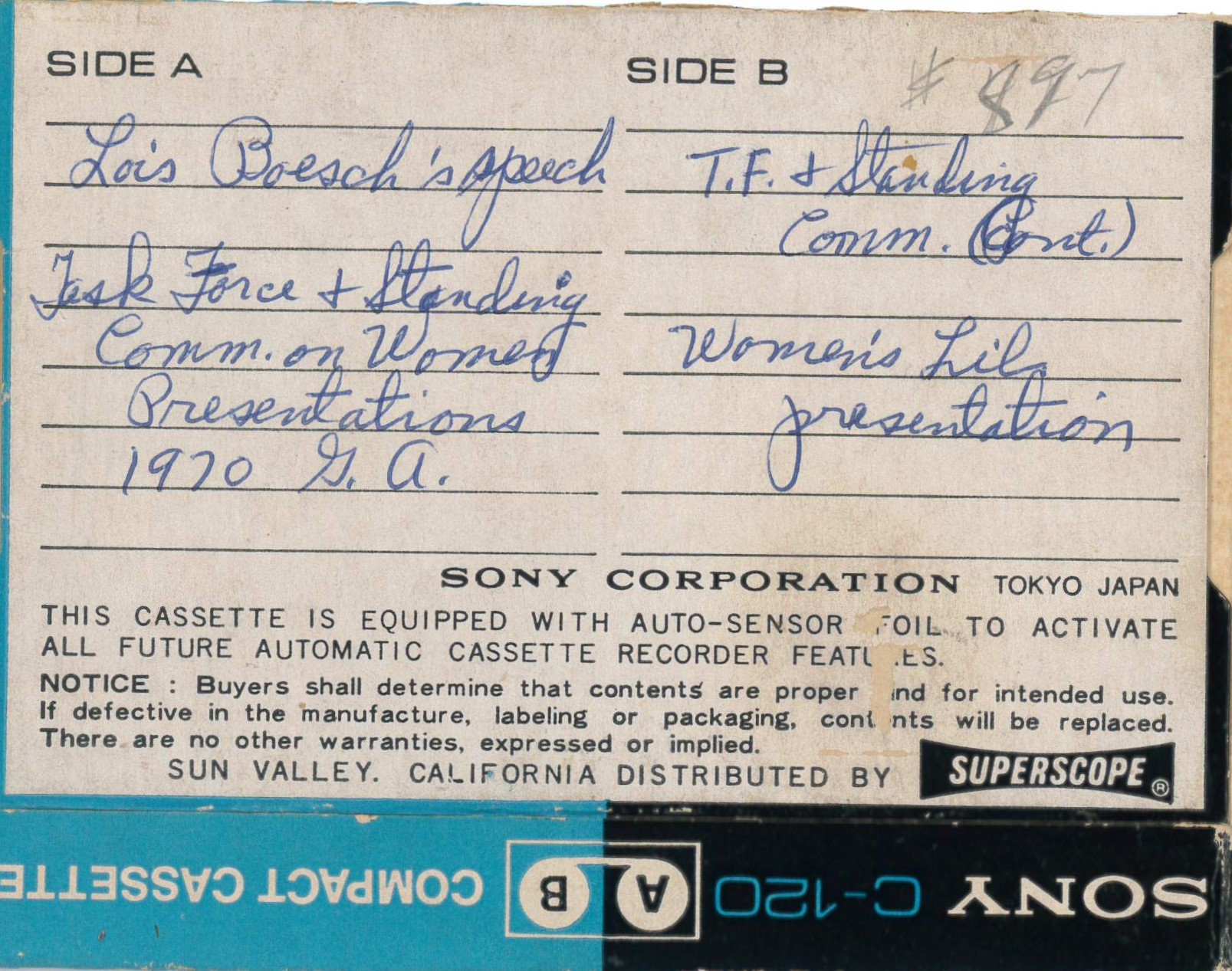 "As Christians, you expect women to serve the church. Women are the slaves of the church. Women raise money, serve as mistresses to some of you delegates at this convention--"
The speaker from the Chicago Women's Liberation Union was interrupted by noise among the delegates to the 182nd General Assembly. She went on, and was interrupted again.
"We arrange flowers, serve dinners, teach Sunday school, pour coffee, sing in the choir, and care for children while men attend conventions like this. If you will be quiet, I will continue. Your behavior is very characteristic of the kind of attention that women receive."
Coverage of the Chicago General Assembly in the June 15, 1970 issue of Presbyterian Life identified the speaker as Mrs. Arthur Vasquez, and praised the moderator of the Assembly, William R. Laws Jr., for affirming Vasquez's witness. Press did not run with the passage about women serving as mistresses to delegates, which is preserved in an audiocassette recording of proceedings, housed at PHS since 1983, digitized in 2021, and now available in Pearl.
The same Assembly that responded to Vietnam, the concerns of youth, and the Black Manifesto was reminded that its work for the rights of women was overdue. Lois Boesch, president of United Presbyterian Women, pointedly told commissioners that UPW was "one of the very few groups that bring a gift of five million dollars to the church instead of asking for five million" and insisted on women's capacity to determine how that money was spent.
At the time, women made up 57 percent of church membership, but only 15 percent of its ruling elders. The Chicago Assembly was made up of 825 commissioners, 92 of whom were women, 20 fewer than in 1969. In Rochester in 1971, the church would elect Lois Stair as the first woman moderator of the Assembly.
In 2020 the PC(USA) virtual General Assembly boasted 267 women among its 503 commissioners, with the single largest demographic among commissioners and delegates being white women between the ages of 56 and 65. Pay inequity, despite greater representation by women in church government, is a carry-over from the previous century. A 2018 Board of Pensions report found the average male church worker made $65,367 to women's $56,173 -- 85 cents on the men's dollar.
More resources:
PC(USA) General Assembly Committee on Representation (GACOR)
PC(USA) Advocacy Committee for Women's Concerns (ACWC)