New Frontiers in Mission & the Legacy of Margaret Flory
Margaret Flory was a pioneer in mission work for the Presbyterian Church. Throughout her long career with the Board of Foreign Missions, she created several cross-cultural ecumenical programs for youth, believing that that "the American church has much to learn from the rest of the world." One of these programs, Junior Year Abroad, was one of the first study abroad programs in the country and allowed students to serve in places such as China, Brazil, India, Ghana, and the Philippines.

I recently processed Flory's collection of personal papers as Record Group 527. The guide is now available on our website along with a brief Timeline of Flory's life. Flory donated additional materials to the Yale University Archives and a guide to that collection is also available online.
Flory was born in 1914 in Wauseon, Ohio and graduated from Ohio University with a B.A. in English and an M.A. in Speech and Dramatic Art. After graduation, she spent several years teaching drama at Alabama State College for Women. Margaret first applied to serve as a missionary to China in 1943, but her trip was delayed due to World War II; she instead accepted a job as the Executive Secretary for the Presbyterian Church in the U.S.A. Board of Foreign Missions Office in New York City. By 1951, she became director of the Office of Student Work. During the next three decades, she worked with the Board of Foreign Missions to create innovative ecumenical programs for youth that would build global bridges between Christians.
She also became well-known for her involvement with the world ecumenical student movement. She planned the Quadrennials of the Student Volunteer Movement in 1955, 1959, and 1963--week-long conferences for students interested in human rights work that were attended by thousands of students from over a hundred countries. At the conferences, the students were able to connect with civil rights leaders like Martin Luther King Jr. and Bola Ige from Nigeria. Flory was an advocate for creating experiences that would nurture cross-cultural understanding, especially for young people in the church. In the World Student Christian Federation 100-year history she wrote, "When persons of different cultures and nationalities are drawn together in a common experience, they teach each other in life-changing ways." These conferences gave her the idea to create the Frontier Internship in Mission program in 1961: a program that allowed recent college graduates to gain international mission experience in "unreached corners of the globe."
As I processed Flory's papers, I was able to see her diligent work ethic and passion for education in the files that she donated. She organized all of her personal files either chronologically or by subject. Her chronological files start in 1930 and each year is filled with extensive clippings, programs, and notes. The materials document her friendships, travels, and career; there are clippings from her theatre days at Alabama College in the 1930s, correspondence with student missionaries in the 1960s, and handwritten reflections on her career from the 1990s. There are also subject files of artwork that she collected during her travels and a folder of her favorite poems.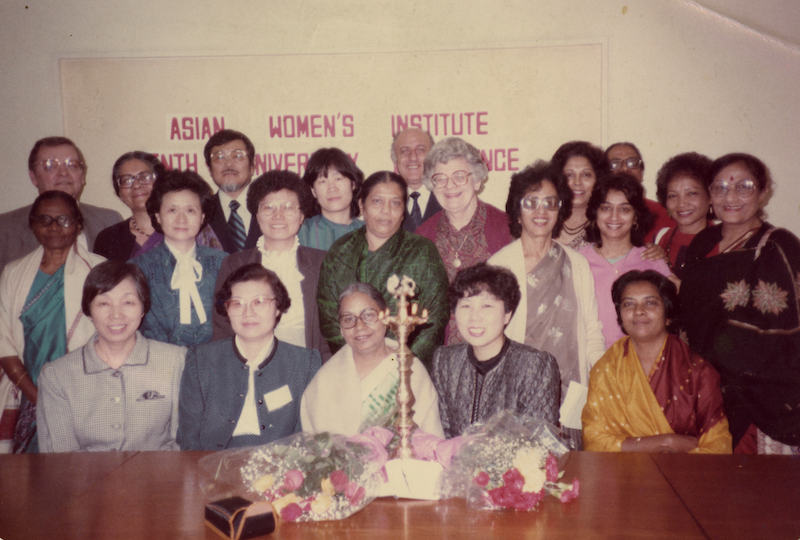 One of the most interesting parts of the collection to process were Flory's journals. As Flory met with ecumenical groups around the world, she kept personal journals documenting her trips and books of signatures that she collected from the people she encountered. She also jotted her thoughts down while working on mission education, starting writing projects, and reflecting on her career. There are over ten journals in Flory's collection, the earliest dated 1948 and the last from 1980.
Although Flory officially "retired" from the United Presbyterian Church in the U.S.A. in December 1980, she refused to let anyone use that word; she preferred the term "restyling." Flory remained very active in Presbyterian organizations and immediately took up work as the program director for the Gilmor Sloane House at Stony Point Center, where she continued working until 1988. Throughout the 1990s, she wrote several books on mission history, including an autobiographical account of her life Moments in Time: One Woman's Ecumenical Journey. Margaret Flory passed away in 2009 at the age of 95. The collection that she donated to the Society of both her personal and professional writing shows her lasting impact on how Presbyterians thought about, and carried out, mission work.