Now Processed: Howard Rice Papers
"I cannot separate my confession of faith from my politics and have either faith or politics be meaningful. I cannot sit by comfortably and let my brothers starve whether they be low-paid laborers in this country or peasants in India." The statement of faith written by a McCormick Seminary student in 1955 would guide the future moderator throughout his career.
The minister, theologian, and activist Howard Leland Rice was moderator of the 191st General Assembly of the UPCUSA. His personal records are now processed, in RG 539.
Rice graduated from Carroll College in 1953 and from McCormick Theological Seminary in 1956. Ordained by Winnebago Presbytery, he served House of Faith Presbyterian Church (Minneapolis, Minn.) for five years. In March 1961, he was installed in the newly-developed Emmanuel Presbyterian Church at 19th Place and Carpenter Street in Chicago's Pilsen neighborhood. Emmanuel was a multi-ethnic and bilingual church, formed by merging two Methodist churches and the former Howell Memorial Presbyterian Church.
In the 1960s, the Pilsen neighborhood became the home of Mexican-American families displaced by the redevelopment of University of Illinois to the north; the resident Polish families greeted them with "fear and loathing." Riots in the wake of Martin Luther King Jr.'s assassination swept the nearby west side in 1968, increasing white flight and leaving behind "scorched earth." By 1970, the Settlement House that Rice's church had worked with had new community leadership and had been rechristened Casa Aztlán.
Rice at the time saw himself as the only person who could "keep the parts of the congregation together: White, Black, and Hispanic…I was a unifying force and all three groups had come to trust me as their leader." Dissolving himself in his work, his body exacted a toll. Numbness in his feet and loss of balance were diagnosed as multiple sclerosis. Rice began using crutches, and felt wounded and bitter toward God. "My anger at God took the form of refusing to mention God in my preaching for several months. I could and did speak about Jesus, his suffering and compassion, but not of the evil and ugly God who caused the suffering." His community came to his aid, seeing no longer a self-reliant and individualistic missionary, but a fellow sufferer. "Black and Hispanic people responded to my cries for help and understanding. I was no longer the one who was doing for them, but there was a new mutuality in our relationships."
Urged by his doctors to leave the Midwest, Rice began applying for work elsewhere. His advocate Jose Morales, professor of field instruction at the University of Chicago, held that churches and seminaries were not "looking further than the application form, which honestly states that Mr. Rice has multiple sclerosis" and that many of the institutions Rice applied to did not "even take the time, effort or courtesy to respond to his applications."
"Mr. Rice does need a walking stick to get around, but he does get around."
Rice took an appointment as chaplain and professor of ministry at San Francisco Theological Seminary (SFTS) in 1968. In the early 1970s, he read Morton Kelsey's The Other Side of Silence, which sparked an abiding interest in spiritual growth and renewal. Over the next thirty years, Rice would be credited with rediscovering practices of spiritual renewal within the context of Reformed theology, pioneering SFTS's programs in Spiritual Direction and Spiritual Formation.
By 1972, Rice began using a wheelchair, another bodily change which intensified his identification with oppressed people. "Sitting in a wheelchair gives someone a certain perspective. I've learned what it's like to be demeaned and ignored." His moderatorial year in 1979 was, in Rice's words, a means for the church to "focus much more on the disability issue. People had to deal with me as I am. If they invited me to preach in their church, could I get in?"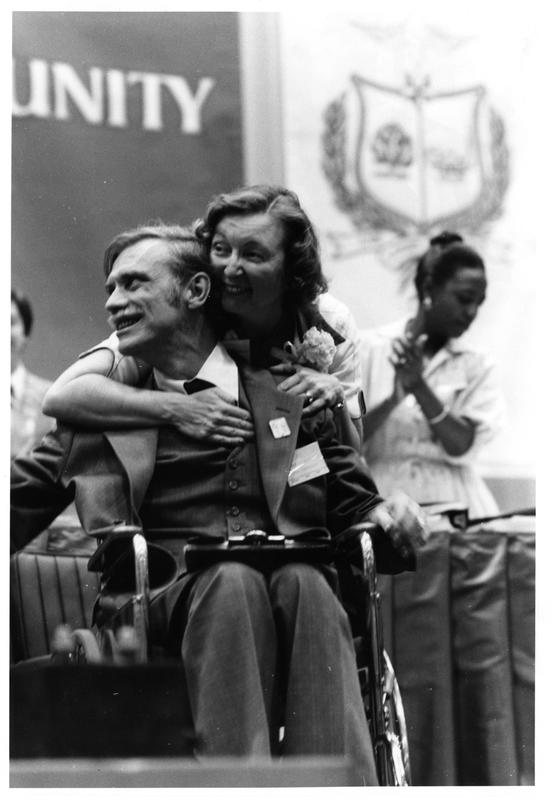 As moderator Rice spoke of the responsibilities of a rich church in an impoverished society: "Presbyterians are not poor people and that's another issue we have to confront – our disproportionate use of the world's resources."
In the period just after Sandinista victory and the end of the Somoza regime, Rice spent time in Nicaragua. Here he met the Sandinista priest and liberation theologian Ernesto Cardenal, and came home with photos, postcards, and literature celebrating the end of the war and the beginning of the Nicaraguan people's Crusade for Literacy.
Rice's major writings are Reformed spirituality : an introduction for believers (1991) and Reformed worship (2001). He retired from San Francisco Theological Seminary in 1997. In retirement he served as interim president of Cook Native American Ministries. He died on August 8, 2010, in Claremont, California. It's our pleasure to be able to share Howard's legacy with you.
Learn more