1855: Olivet Covenant Presbyterian Church, Philadelphia, PA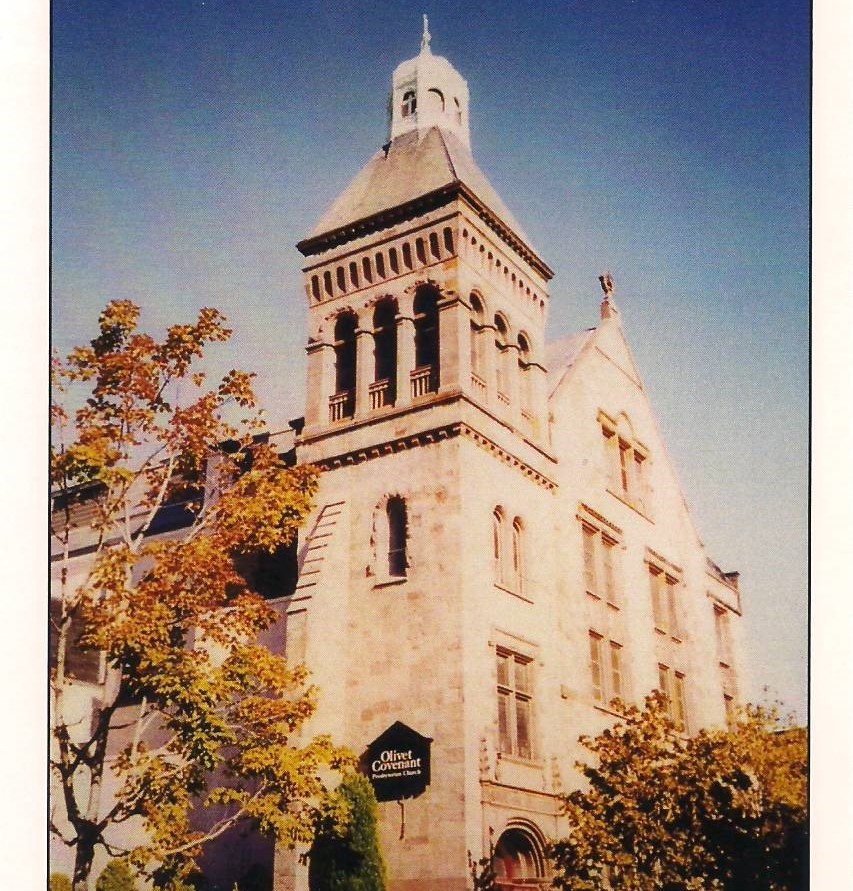 The Olivet Presbyterian Church began meeting in the Fairmount neighborhood in April, 1855 as a Sunday school outreach of the Calvary Church. When they outgrew their meeting space, they relocated to a chapel at what is now 22nd and Wallace Streets. The congregation was organized as the Olivet Church on April 11, 1856 and a new and larger church building was erected at 22nd and Mt. Vernon Streets, financed by a $20,000 gift from Mr. Baldwin, and smaller gifts from other friends of the congregation. The chapel at Twenty-second and Wallace Streets was replaced by an educational building in 1895. In 1900, membership peaked at 1,100 and 1,021 enrolled in its Sunday school.
In 1908, the Covenant Presbyterian Church merged with Olivet, and the name was changed to Olivet Covenant. In the second half of the twentieth century, two more churches merged with Olivet Covenant: Robert Graham in 1965 and Zion in 1975. Despite the addition of these congregations, membership decline has continued, and at the end of 2016 there were only 40 members remaining. Nevertheless, in the midst of ongoing changes in the population mix of the Fairmount area, Olivet Covenant has maintained its commitment to serve its neighborhood in many new ways.
Since the year 2000, Olivet Covenant has opened its building to a variety of neighborhood groups and at the end of 2016 was hosting two additional congregations, a non-profit theatre company, and the Philadelphia Flute Society. In 2004, Olivet's willingness to "think outside the box" also resulted in the conversion of some twenty unused classrooms into artist studios. Now, in partnership with the Philadelphia Mural Arts Restorative Justice Program, Olivet Covenant is working to disrupt the "school to prison pipeline." Recently released convicts, working with Mural Arts in their first job, are now painting murals in Olivet Covenant's art studios. Thus, after 160 years, Olivet Covenant is still in the redemption business, giving some of "the least of the brethren" a second chance at a new life.
--
This brief history was recently updated as a part of the Presbytery of Philadelphia's 300th Anniversary Year of Celebration and Witness. The story of the congregations throughout the Presbytery were revised to remind us of our past even as we live into the present and move towards God's promised future. Read more about the 300th Anniversary: www.presbyphl.org/300th-Anniversary.