Our Work in the Archives, Third Quarter 2020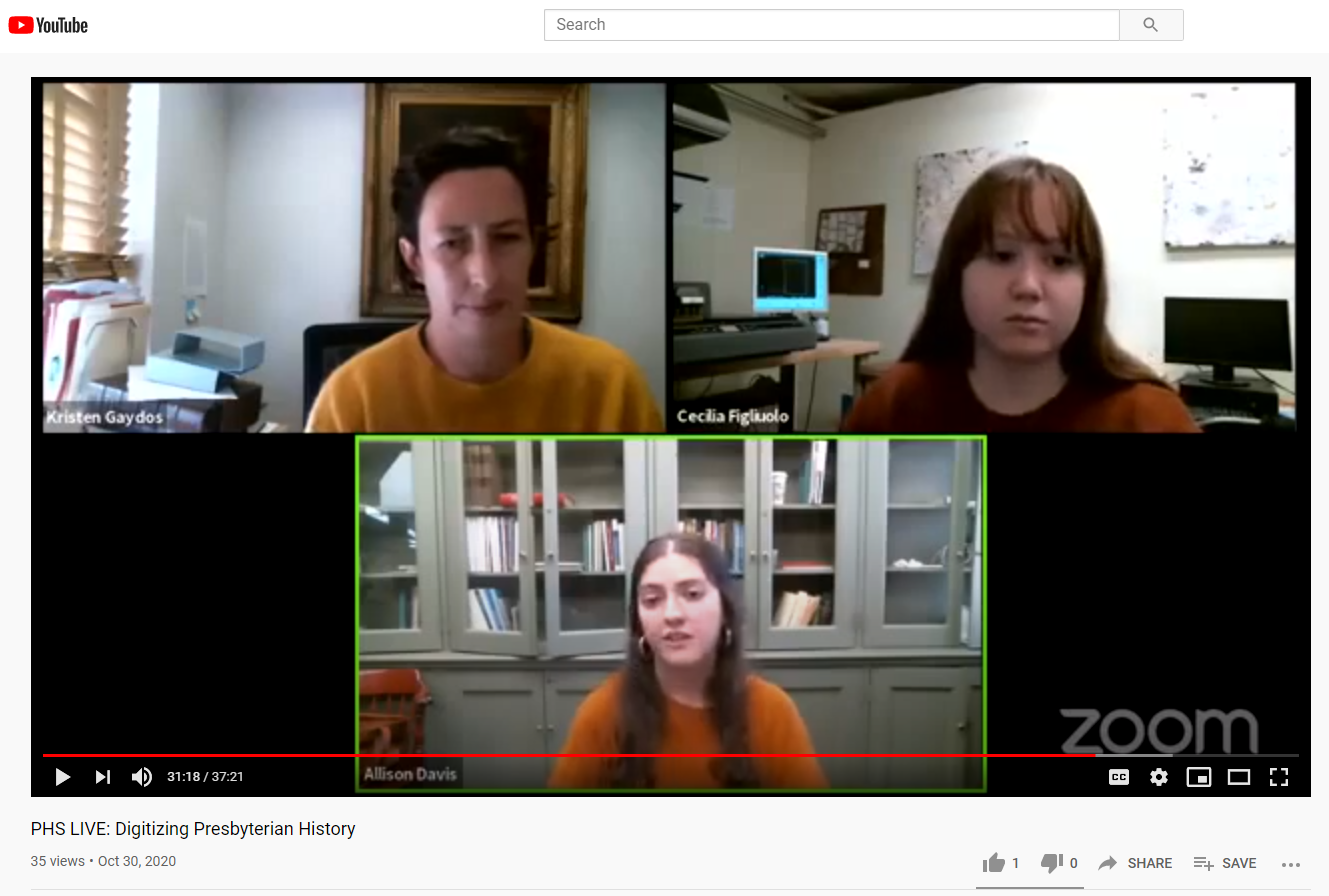 From July through September 2020, as Presbyterians unwound after the first remote General Assembly and greeted the church's first indigenous moderator, part of a team that promised to bring the past forward, the nation around us haltingly, often violently, did the same thing. While basketball playoffs and the World Series and the looming threat of college football muffled the clamor in the nation, the usual programming could not drown out the American people's renewed cries for justice and liberation. Your archival staff was similarly bound -- committed to carrying out our standard work as if our bubble was as effective as the NBA's, called upon to reorient ourselves and to respond immediately to political and humanitarian needs.
Here's a snapshot of our work in the third quarter of 2020.
In the wake of continued extrajudicial killings by police and related protests, we continued our Black Lives Matter sermon and worship collecting, including sermons from Kenosha, Wisconsin, Charlotte, North Carolina, Jacksonville, Florida, and "A Shortness of Breath," the Pentecost sermon preached at Trinity Emmanuel Presbyterian Church, in Rochester, New York.
Shortly before the catastrophic explosion that engulfed Beirut, we delivered to the Near East School of Theology a tranche of original correspondence from Presbyterian mission stations in Lebanon from the 1840s. The correspondence -- parts of it possibly misidentified as being from "Abeih station" -- recounts intercommunal strife among Maronites, Druze, and the nascent Protestant communities. In part the record complicates a common reading of 19th century missions in West Asia: that there were zero Muslim converts to Christianity, an assertion based on missionaries' public statements, undermined by their private correspondence -- by revealing some conversions of Muslims to Protestantism -- enough in some places to start worshiping communities of a dozen or so.
These were among the 7,000 pages of text and images we scanned in the third quarter, bringing us to more than 32,000 for the year. We added to our digital collections Gayraud Wilmore's "Racism in Historical and Theological Perspective," minutes from the old Presbytery of Atlantic, and new material from the David Sindt collection. In support of our colleagues' efforts in the Presbyterian Mission Agency to support Protestant churches' property claims in Thailand, we imaged a large tranche of property transfer records of the Christian Church of Thailand. Ordinarily dry, property records occasionally contain extensive photographic documentation, and that was the case here.
We continued to host episodes of PHS Live including an introduction to using Sheppard, and a conversation on curatorial responsibility surrounding our African American Leaders and Congregations initiative.
In the quarter we brought in 84 groups of records for nearly 97 cubic feet, including nearly 18 feet from First Presbyterian Church (Miami, Fla.). Among the quarter's highlights were the personal papers of two women both ordained in 1974: Katie Geneva Cannon, organizing genius of Womanist theology, and Barbara Roche, the longserving editor of Concern and Horizons.
With sadness we witnessed the early retirement of Collections Management Archivist Bill Brock, who once backpacked through Europe, Egypt, Palestine, and the Levant, and Manager of Technical Services Margo Szabunia, a world-ranked fencer and mother of two.
We fielded 565 reference questions, among them requests from 60 PC(USA) congregations, bringing us to 1,587 inquiries for the year. So far this year we've been in touch with 169 PC(USA) congregations.
We look forward to soon sharing with you the fruits of this summer's work, including preservation of the records of our neighbor, Mother Bethel AME, the first congregations to have their records preserved via our AALC program, and the classroom resources and student exhibits created through our Building Knowledge & Breaking Barriers project.