1866: Aston Presbyterian Church, Aston, PA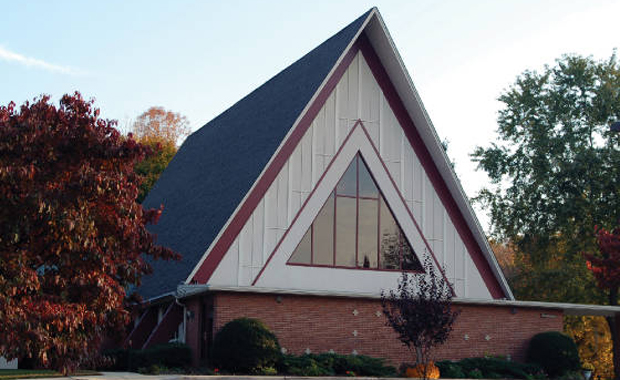 Second Presbyterian Church of Chester was organized on February 15, 1866 with thirty-three persons received by certificate of transfer and ten received on Profession of Faith. The Church was located at Third and Ulrich Streets in the City of Chester. The congregation met to proclaim God's love and welcome disciples through many pastors at that location until February of 1956.
It was February 28, 1956, a cold day, when fire destroyed the 90-year-old edifice of Second Presbyterian Church in Chester. It was during the period after this fire, that the congregation learned that the Church of Jesus Christ is not a building, it is the women, men, youth and children that follow Him. It took three years as this portion of His Church worshipped and witnessed using the YMCA in Chester as their home. The new building was relocated to Aston Township. Aston Presbyterian Church became the new name in 1983. During this period, it was the steady leadership and preaching of Rev. Douglas A. MacMurchy that proven vital to the congregation's future.
When the new building opened on Palm Sunday of 1959, prayers of thanksgiving for the guidance of the Holy Spirit and the dedication of the people of Old Second Church made this a time to launch into service for Christ in a new community. Approximately two years after beginning ministry at this new location, the congregation was saddened as our God called Rev. MacMurchy home to be with Christ. Once again the leaders of the Session, Trustees and Deacons stepped up as the search for a new Pastor began.
The PNC in February of 1962, brought the Rev. Robert L. Seaman to be called as our new Pastor and we began to see some new mission opportunities such as the start of a Presbyterian Women's Association. Also some new Adult Study opportunities were begun. Rev. Seaman was more liberal in his interpretation of our mission and in 1965 he decided to move to a new ministry in New Jersey. We once again were searching for a Pastor to bring new energy to our witness as we celebrated our 100th Anniversary. Once again it was in February that the PNC brought the Rev. Robert P. Boell as a candidate for the Pastorate. The congregation agreed and the Lord blessed Pastor Boell's ministry with us for twenty plus years.
During that period the congregation grew to almost 300 members with a strong Christian Education program, a building addition, successful Vacation Bible Schools, many Adult CE studies and new groups started such as Presbyterian Mariners, Hallelujah Singers, Genesis Youth Group and the pre-teen youth group lead by Bob & Jean Boell known as the Thursday Group.
These are but a few of the ministry and mission programs and ideas from years gone by. Our challenge as approach the new Church year is to seek the guidance of our Lord for building up current and new ministries that will assist us in winning new folks to receive Jesus as their Lord and Savior. I am confident that with the leadership of Pastor Graham, the Elders and Deacons our witness for Jesus will grow and become stronger each year. As the Hymn "The Solid Rock" by Edward More says in its first verse: "My hope is built on nothing less than Jesus' blood and righteousness; I dare not trust the sweetest frame, but wholly lean on Jesus' name. On Christ the solid rock I stand; all other ground is sinking sand; all other ground is sinking sand."
As long as we stand on Christ the solid Rock our witness will remain strong!
--
This brief history was recently updated as a part of the Presbytery of Philadelphia's 300th Anniversary Year of Celebration and Witness. The story of the congregations throughout the Presbytery were revised to remind us of our past even as we live into the present and move towards God's promised future. Read more about the 300th Anniversary: www.presbyphl.org/300th-Anniversary.